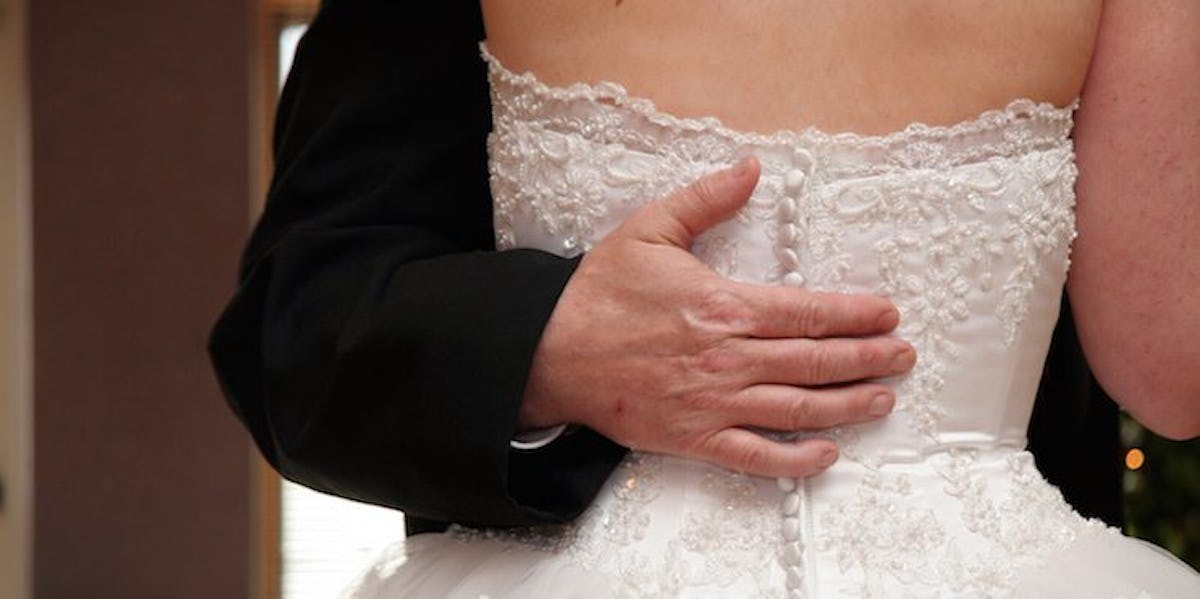 This Bridesmaid's Father Daughter Dance With Her Terminally Ill Dad Will Ruin You
Shutterstock
I'm super close to my dad, so any sweet father-daughter stuff almost always sends me straight into tears.
The Last Song? Cried like a baby. That Amanda Bynes movie where she goes to London to be with her dad (played by Colin Firth)? Sobbed. The entirety of the show Parenthood? Tears flooded my face for six seasons straight!
But this story of a bride making sure her best friend gets to have a dance with her dad living with cancer? I LITERALLY CANNOT STOP CRYING.
Nora and Michaela Cook-Yotts just got married, but the two went out of their way to make their wedding way more than just a celebration of their love. On their big day, they made room for just one more father-daughter dance on stage — for Michaela's best friend Jessica.
You see, Michaela has been best friends with Jessica Otto since second grade. About their friendship, Jessica told BuzzFeed, "She is what I would call a 'forever friend.'"
Like any good "forever friend," Michaela has been there for her BFF since her dad got sick.
According to BuzzFeed, Jessica's dad was diagnosed with non-Hodgkin's lymphoma back in 2001. Then, in 2009, things escalated when he was diagnosed with central nervous system lymphoma. By 2013, the doctors found a brain tumor. And last April, Jessica's dad relapsed a fourth time.
While it was their wedding, Michaela and Nora wanted to make sure Jessica and her sister got the chance to have their dance with their father before it was too late.
So, the day of their wedding, Nora and Michaela both danced with their respective fathers, and much to everyone's surprise, Jessica and her sister Megan were invited up on the dance floor with their father Peter to have a dance of their own.
Jessica explained to BuzzFeed that the couple actually brought it up to her before the wedding: "Megan and I discussed it and we decided together that we wanted to accept the offer. I am really grateful."
The cutest part of it all? It wasn't even Michaela's idea! It was Nora's. She actually just loves her wife so much that she would do anything to make her happy, even if that means going out of her way to make her friends happy.
And just when you thought the story couldn't get any more heartwarming, it does.
"Not only have Jess and I been friends since the second grade, Pete is my dad's best friend," Michaela told BuzzFeed.
She continued,
It only made sense that he was up there dancing with Jess and Megan. There was just no way it wouldn't have happened. When Nora suggested it, I knew it needed to happen.
So while the dance didn't come as a surprise to the girls, it was a surprise as far as Pete was concerned. "The first my dad heard of it was when the DJ called myself, Megan and our dad to the dance floor," Jessica said. "He was shocked."
Even though Jessica and Megan's mom Lisa wasn't a part of the dance, it meant the world to her as well. Megan explained, "My mom is so grateful for what Nora and Michaela did for us."
Want to do your part to help the Otto family? Well, I have a way for ya! The family participates in a fundraising bike ride called the Pan-Mass Challenge every year to help raise money for cancer research.
Usually, Peter and Jessica ride while Lisa and Megan volunteer, but this year, Peter's health is a little too unpredictable to participate. That means Jessica is riding alone.
She's trying to hit a goal of $15,000 raised, and if you donate, you can help her turn that dream into a reality.