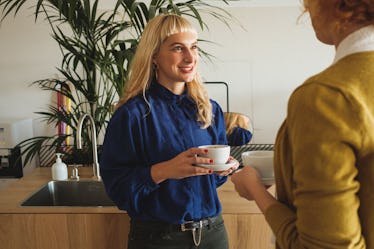 If You Want To Date A Coworker, Proceed With Caution — Here's How
Maybe I'm just a sucker for romance, but there's nothing more thrill-inducing than developing a new crush. Of course, that thrill can either be heightened or dampened by your crush happening to be one of your coworkers. Sure, a "work wife" or "work husband" is fine. But what about actual romantic feelings in the workplace? Like for real? Even if there's flirty energy via Slack or tenderness in your latte runs, you've probably told yourself, "Nope, not gonna pull on that thread." If you're wondering if dating a coworker is OK, well, there is a sliver of hope.
If you're second-guessing whether you should shoot your shot, you might be surprised to know that dating or sleeping with a coworker is actually fairly common. In fact, a February 2019 study from job site Vault.com shows that 58% of employees have been in a relationship with a colleague. (And another 18% reported at a random hookup with a coworker.) What's more is that 72% of respondents said they would have an office romance if simply given the chance.
While tricky, dating someone you work with doesn't have to be a complete disaster. Here are seven things to keep in mind if you're thinking about wooing your work crush.