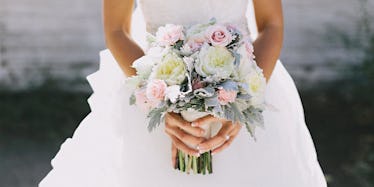 I'm Obsessed With Weddings, But I'm Never Going To Have One Of My Own
I have an obsession with proposals and weddings. I'm super proud of my wedding board on Pinterest, and even as a little girl I had elaborate plans for my wedding.
It wasn't exactly visions of a Cinderella wedding, though -- I used to tell my mom, "I'm going to get married on the water in a white bikini and when we say "I do," we jump in the water!" Um, I was an interesting kid.
Of course, since I'm such a sucker for love and weddings I've had a million different visions of the perfect wedding: barn wedding, camp wedding, bed and breakfast wedding, Brooklyn loft wedding, destination wedding, city hall wedding and the list goes on and on.
The thing is, though, I actually really don't want a wedding.
They're waaay too expensive.
The biggest and most obvious reason I don't want a wedding is the money. The average cost of a wedding in the US is $29,000 and the average cost of a wedding in New York (where I live) is $87,000 (and both of those averages are excluding the honeymoon).
So, let me low ball it and stick with the $29,000 average. Do you know what I could do with $29,000?! And for the record, like most people, I don't have $29,000 just chilling to invest in a four hour party (let alone a whole day affair).
My wedding obsession led me to reach out to my top five wedding venues in New York and the average cost at these places without adding extras is $18,000. Keep in mind, fancy isn't my thing, so I reached out to a winery, a farm, a garden, a whiskey bar and a restaurant.
Either way, $18,000 was what you're looking at as a starting cost. No matter how simple your vision is, once you throw the "wedding" label on your event, the price skyrockets. For example, the farm charges $120 per person for one of their basic wedding packages, but if you decided to host a "non wedding event," the price drops more than half.
Plus, like I mentioned those are just starting costs. When you have a wedding, there are so many details and extras that need to be accounted for and paid for.
You have to send out both save the dates & invites. You host an engagement party, a bridal shower, a bachelorette party and rehearsal dinner (yup! all those unnecessary extra parties for one just marriage.)
Then there's decorations. You have to buy a ton of flowers to make the whole place "absolutely stunning" and those will be dead in a few days, if not a few hours. You buy a cake nobody ever freaking eats!  And of course, there's the wedding dress. I'm not even going to get in to the cost of those bad boys, which you only wear ONCE IN YOUR LIFE.
It's so much damn work to plan.
Oh, the headache that is wedding logistics. What color plate? What invitations do we buy? Do you want the boutonnieres the groomsmen wear to match the bridesmaids' corsages?
The thought of arguing with the man I want to marry about the color of our damn plates that nobody is even going to notice is insane to me. Agonizing over whether we're going to serve food buffet style or have a formal sit down -- does it matter so long as everyone eats? Oh, one costs $65 more than the other? Cool, I'll take the cheaper option!
You have to nail down a guest list.
I personally think the most agonizing part of a wedding is pinning down the guest list. Of course, first you have to consider the amount of guests you can even put in your budget.
But it's not just a money thing. You have to really consider who you actually want to share such an intimate moment with. I want to keep my wedding real, intimate and meaningful, so I can tell you exactly who's not coming to my wedding.
If I don't know your last name, you're not invited. If we don't even invite each other to birthday parties, then of course you're not invited. Don't get along with one of the spouses? Not invited.
No invite if you're a friend of a friend of a friend, or if we live in the same city and you haven't met my spouse or even seen me in over a year. I wouldn't invite someone if we only communicate through social media, or if they weren't there during tough times.
If there's a 100 percent chance we won't know each other in five years, yeah, you're not invited. No offense.
See? Weddings are exhausting. Personally, I'm in a "F a wedding"mode.
That's not to discourage anyone from having a wedding. Did you see my Pinterest board? I'm obsessed. And feel free to invite me because I'm a very enthusiastic guest. But honestly, having a wedding just isn't for me.
A version of this post was previously published on the author's personal blog.