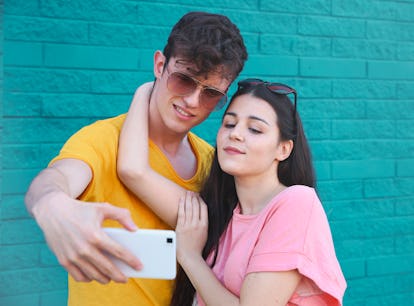 12 People Explain How Their Hookup Buddy Became A Serious Partner
Yes, you *can* turn a hookup into a legit relationship.
Westend61/Westend61/Getty Images
My boyfriend and I didn't necessarily hook up the first time we met, but we were definitely hooking up for a long time before we decided that we were officially dating. In fact, I'd say there was about three months of ambiguous, undefined, WTF-is-this territory before we even discussed becoming exclusive. And I don't think our story is unique, either. In this day and age, lots of relationships start off as hookups, but knowing how to turn a hookup into a relationship is where things can get tricky.
Relationship and etiquette expert April Masini said the best way to start is by having an honest conversation where you lay it all out on the table: your expectations, feelings, and views on important topics like exclusivity. "Talk about what you want — but also talk about what you don't want," she previously told Elite Daily. "For instance, don't dance around the topic of monogamy [if that's what you want]. Ask your partner how they feel about that, and if they're on the same page that you are."
There's no doubt that having this convo is scary, but if you're not sure how to turn a hookup into a boyfriend or girlfriend, then talking to them about it is your best bet. "They might say, 'I've been feeling the same way, too, and I was scared because I didn't want to lose you,' and then you both get your needs met," certified dating coach and relationship expert Damona Hoffman previously told Elite Daily. "But no one gets their needs met if you just stay in it and swallow all of your true feelings."
Wondering how other people have taken their situationship or FWB all the way from hookup to relationship? A Reddit thread asked people for tips on how to turn a hookup into a relationship based on their own experiences and, boy, oh boy, did they deliver.
The conclusion here? Don't be discouraged about your love life because you're "just hooking up" with people. Chances are your FWB relationship could turn into something serious.
Experts:
April Masini, relationship and etiquette expert
Damona Hoffman, certified dating coach and relationship expert
Editor's Note: This story has been updated by Elite Daily Staff.
This article was originally published on