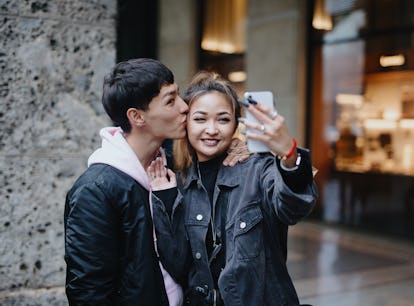 6 Practical Tips For Starting A Conversation On Tinder
A dating coach shares her best advice.
Anchiy/E+/Getty Images
As a relationship coach, people hit me up for dating advice a lot. Time and time again, one of the most common questions I get asked is: "How do I start a conversation on Tinder?" It seems deceptively simple to send a message to someone and get the ball rolling — but when you match with someone who makes your heart race, composing the first message can make even the wittiest person get all tongue-tied and twisted.
There are many things to consider when it comes to striking up a conversation with someone new. You don't want to come across as too eager and inundate them with too much information — but on the other hand, you don't want to be too measured and risk not cutting through the noise and standing out from the crowd. Suddenly, the first "hello" becomes high-stakes. The introduction is no longer about seeking connection, but now you're trying to impress them and show your viability as an eligible match. However, meeting potential matches shouldn't feel this tough.
Through my coaching practice, I've found that starting a conversation on Tinder isn't necessarily about crafting the most ingenious, astute message. The vibe starts much sooner than that — it's really about setting yourself up for success before the introduction so that the first message does exactly what it's supposed to do: spark the initial connection and gauge compatibility for a potential IRL date.
If you're ready to get started, here are some tips for how to start a conversation on Tinder with someone new.
According to data from Tinder, 95% of matches are most likely to meet between two and seven days after matching. Chatting on the app beforehand can help you figure out whether the person is someone you'd actually want to meet IRL and get to know further. To do that, striking up an honest, engaging conversation on Tinder is key.
Talking with potential matches on dating apps can feel endlessly tiring, but it doesn't have to be. Approaching Tinder with a new angle can make new conversations less of a drag and more like joyful interactions with people who are looking for connection, too. Like I mentioned before: When starting a conversation on Tinder, keep it low-stakes, fun, and light, and dating apps will feel like a breeze again.
Experts:
Damona Hoffman, the host of the Dates & Mates podcast