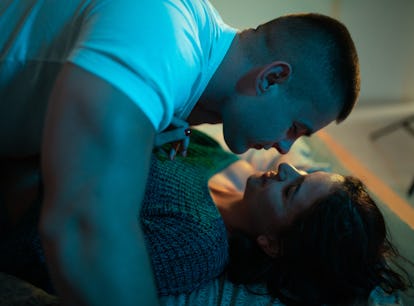 7 Sex Positions Guaranteed To Make 'Em Scream With Pleasure
Reverse straddle is a must.
miodrag ignjatovic/E+/Getty Images
I like to have sex… a lot. Who doesn't, right? And when it comes to sex positions, I find that more variety equals more fun. I'm not one for quickies — if I'm going to have sex, I like to make sure that I'm dehydrated by the end of it. And if you're going for hours, then you have no choice but to switch things up or risk monotony and the disappearance of excitement. In need of some tips for how to make a woman cry in bed with pictures? I've got some tried-and-true positions that will answer all your questions about how to make her scream with pleasure.
Here are a few of my favorite sex moves (which are most often received with screams of orgasmic pleasure). I've done in-depth research with a large group of participants, so I believe this to be fairly accurate. Hopefully you'll find this correlates with your own sexual experiences.
Missionary
What I like about this classic position is that — for the partner on top — gravity is on your side and the depth of penetration is maximal. If you're looking for the receiving partner to scream, "Oh my god!," then this is your position. The depth and control combined with the clitoral stimulation available with such a comfortable position is optimal for their pleasure.
Doggy Style
Doggy style is one of the prime positions for orgasms, and adding a vibrator can make things even hotter. Take a wand vibe, put it on a pillow, and have the receiving partner grind up against it while the other partner penetrates them from behind. This guarantees good vibes for everyone involved.
Legs In The Air
This position is not only awesome for an orgasm, but it doesn't take a ton of space to perform, so you can do it just about anywhere. The vertical angle allows the receiving partner to take up less horizontal space, giving the penetrating partner space to kneel and thrust.
Spoon Sex
Lazy folks, rejoice! Spoon sex is not only super intimate, but it also creates penetration with less depth. Less depth puts increased friction on the head of the penis, and it increases the pressure on the G-spot. Start slow, and think of it as a massage for the G-spot. Spooning also leaves room for you or your partner to add in some clitoral stimulation.
Reverse Straddle
Have the receiving partner sit facing forward and reverse-straddle the penetrative partner. Then tell them to bounce up and down, using the other partner's thighs for leverage. It offers an unmatched view for the penetrative partner and unmatched orgasms for the receiving partner.
Standing Sex
Have the penetrative partner enter the receiving partner from behind, with the receiving partner bending over slightly at the waist and lifting one leg. Though shower sex has its challenges, it offers plenty of surfaces for leverage.
Kneeling Lunge
Get down on one knee in a lunge position and tell your partner to do the same. Then, while facing each other, have them enter you. Use their kneeling leg as a push-off point for riding them, and grab onto each other's backs for support. Added bonus: You'll both get in a pretty decent workout for your glutes.
Editor's Note: This story has been updated by Elite Daily Staff.