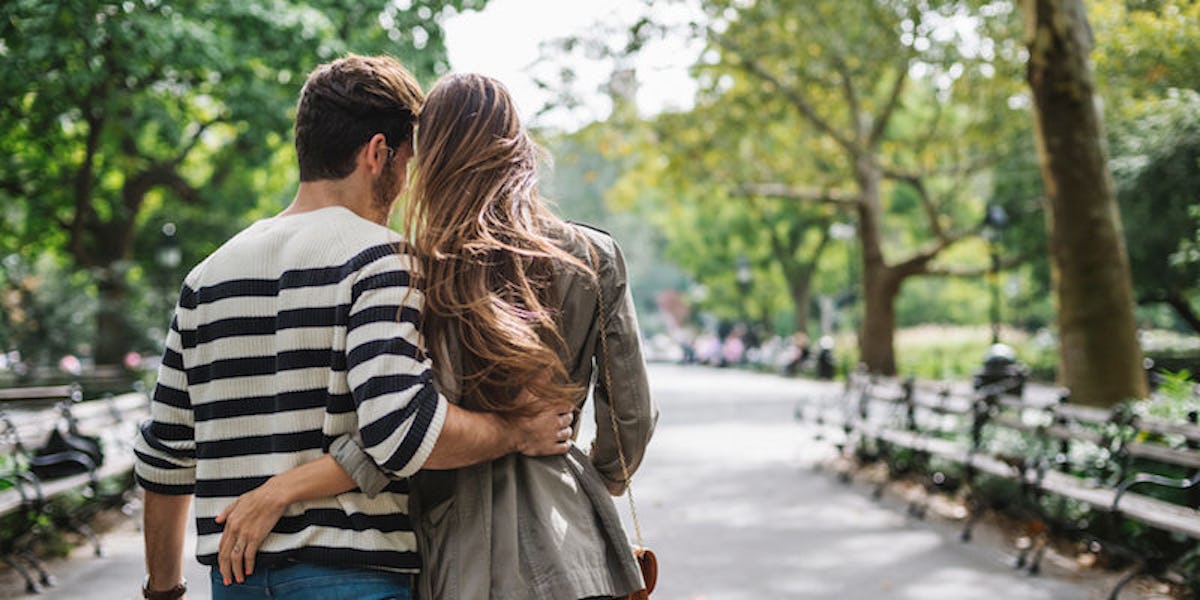 How To Meet Guys When Your College Doesn't Really Have A Campus
Simone Becchetti
I went to college at New York University in the beautiful city of New York, New York.
I loved my experience at NYU so much, especially because I had an entire city at my disposal. I wasn't a caged zoo animal; I was free to roam around this concrete jungle.
But, for this same reason, my school also lacked a typical campus, which meant that there were no huge frat houses where parties happened every single weekend. This made it somewhat difficult to meet romantic prospects.
Actually, it made it sort of impossible. 
At a non-campus college, you want to date, but you don't necessarily want to date random strangers; you want to date people who either go to your school or are somewhat within your age range. That's hard to do when you're school is smack dab in the middle of a vast city.
So, here are five ways to date (successfully!) when your college doesn't really have a campus:
1. Rush frats and sororities, even if you don't want to be in them.
I am the furthest thing from a sorority girl. Trust me.
I rushed sororities, and apparently, I was so "weird" that they couldn't even figure out where to place me. (I fell somewhere in between AePhi and SDT, which were completely different from each other, so... yeah.)
That being said, I met some really interesting guys while rushing. I stayed good friends with some of them throughout college, and I even scored a free ticket to formal with one in particular.
What's the point? Regardless of where you stand on Greek life, at least rush. You never know who you'll meet.
2. Check out local cultural events hosted by your school.
Poetry slams, art exhibitions and music gigs are where all the ~cultured~ guys and girls are going to be, so these are key if you aren't a Greek-life fan like myself.
They're also a great opportunity to show off your own special talents, like painting, singing or songwriting. Whatever your side hobby is, I can pretty much guarantee there will be cool people at these cultural events who are into the same things you... AKA, a no-brainer when it comes to suggesting something you can do on your first date.
3. Join a sports club or your school's gym.
OK, I wasn't really into sports. But I did learn to love exercise in college, so I spent quite a bit of time on my fitness at the gym.
And, my lady friends, all the cute guys are either playing some sport or sweating it out at the gym.
Guys might not want to be bothered when they're in the zone, but every now and then, you can get lucky and end up chatting with someone.
4. Hop around the school's go-to bars.
Don't exclude bar-hopping from the equation just because you're not sure who you'll find in the mix. Find out which spots are popular among your classmates, and make it a point to go to them.
A good spot to find this info is on Facebook, Instagram or Twitter. Maybe the guy from your Intro to Literature class will post about how he's psyched to go to that one bar or club this weekend.
5. Don't be shy around your classmates.
No matter how much of a go-getter you are or where you're going to school, it can still be difficult to meet people sometimes.
When you're new to college, you don't exactly have a wealth of friends just yet, which is why it's so important to chat up the people in your classes. Ask to grab coffee or lunch with them, or suggest being study buddies. (My bet is they'll say yes to you, because studying alone sucks. But alone time with a hot study buddy? That doesn't suck at all.)
Once you're in with them, you'll eventually be in with their friends, which increases your chances of really connecting with one of them or meeting a solid dude through them. Genius.
Who needs a campus after all, right guys?