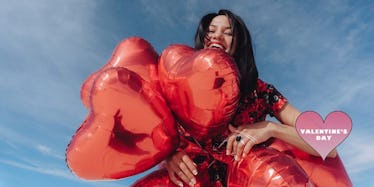 An Expert Reveals How To Find A Great Hookup On Valentine's Day If You're Single
So, you're single on Valentine's Day this year.
First and foremost, I'd like to remind you to please stop acting like you're some a pitiful, pathetic loser doomed for a life of lonely spinsterhood.
There are bigger problems out there than you not having a boyfriend or girlfriend to buy you a box of chocolate one day of the year (things like, um, IDK, terminal illness or our current political climate maybe).
Also, VALENTINE'S DAY IS JUST NOT THAT BIG OF A DEAL.
Now that we've put a stop to your pity party, I'm here to offer you some constructive help.
The fact that you're single DOESN'T MEAN you have to spend Valentine's Day by yourself. And I'm not implying you need to join forces with your single girlfriends for a collective pity party filled with movies, wine and hilarious "The Bachelor" recaps.
No, I'm saying you are fully capable of finding a good, old-fashioned hookup buddy on the most romantic night of the year.
I talked to sex expert Dr. Emily Morse, host of the "Sex With Emily" podcast, about the best places to find a Valentine's Day hookup, and she delivered some pretty solid options:
Hit up your local bar.
Emily's first suggestion is to hit up your local bar. She says,
Restaurants, movie theaters and bowling alleys will be full of couples doing date nights, but one thing's for sure: No one brings a Valentine's date to a bar… at least not one they're serious about. What this means for you is that bars are 'single safe zones.' This, coupled with the addition of dim lighting, alcohol and lowered inhibitions, makes them the perfect place to pick up a cute stranger.
I met my boyfriend — and just about every other boy I've ever been with in my entire adult life — at a bar, so, yeah, I second that suggestion.
In fact, 30 percent of women and 22 percent of men in Elite Daily's reader survey agreed that they'd be spending the most ~romantic~ day of the year at a bar if they were single.
Host a singles' "potluck" with all your single friends.
Here's Emily's explanation for having a potluck with all your single friends:
Think of this gathering as part potluck, part dating garage sale. Everyone brings one hot dish to share, and one hot dish to share. A singles' potluck capitalizes on the idea that one person's 'friend zone' could be another's dream date. When you send out the invite, let all attendees know that they must bring one food item and one single friend they'd vouch for as dating material. This guarantees a party of pre-qualified singles, all with at least one friend in common and zero swiping required. According to the 2017 SKYN Condoms Millennial Sex Survey, 42 percent of singles prefer to meet potential partners through friends, and 28 percent say they go to parties looking for dates. Put those two together, and you've got a pretty decent chance of finding love or, at the very least, your next great lover.
Yes, Emily's original suggestion was a "potluck" with all of your single friends, but I'd like to open that suggestion up to any sort of gathering or party with your single friends.
Over HALF (51 percent) of our female respondents and 22 percent of our male respondents in our survey agreed that they would throw a party on Valentine's Day if they were single.
Honestly, my own single friends are having a party with an open bar and inviting any single people they know, and I'm willing to bet you not one of them will actually be spending Valentine's Day alone.
Celebrate Taco Tuesday.
In case you missed the memo, Valentine's Day just so happens to fall on a Tuesday this year, so obviously, there is a much more important holiday to celebrated here: TACO TUESDAY.
Emily encourages you to capitalize on some Taco Tuesday festivities:
For the millennial set, Taco Tuesday has become the new and improved happy hour. And with Valentine's Day falling on a Tuesday this year, you can bet your bottomless chips and guac that your local Taco Tuesday spot will be filled with singles who are more than happy to share some two-for-one margaritas.
Honestly, my boyfriend asked me to be his girlfriend after we had tacos and margs for Taco Tuesday.
TACO TUESDAY CAN BE VERY ROMANTIC.
Hit the gym.
If Taco Tuesday isn't really your speed, Emily suggests you could meet someone in a ~healthy~ way at the gym:
Generally speaking, the gym has become a taboo place to pick up a date. But Valentine's Day just might be the only exception to this rule. Think about it: If there's a cute guy/girl you've had your eye on, and they've chosen to spend February 14 snuggled up with a StairMaster, you can probably bet that they're single — and they have super healthy coping mechanisms.
Personally, meeting someone I'd potentially like to boink when my hair is matted to my sweat-covered face after three minutes on the StairMaster is my worst nightmare. But to each their own!
Reload Bumble.
Feeling too lazy to actually go somewhere and meet someone? Lucky for you, we live in an age where that is NOT an issue!
Emily suggests you try a nice, handy-dandy dating app:
In this day and age, dating apps might as well be the hottest new spot for singles (and, unfortunately, sometimes not-so-singles) to meet and hook up. And you don't have to sit at home and swipe either! Dating apps like Happn can use your real-time location to match you with singles who are in your area — like within 800 square feet. That way, no matter where you are and what you're doing, you can be sure to find fellow daters who are on your same dating wavelength.
I hate dating apps. THERE. I SAID IT.
But also, I'm lazy. So I kind of like this method. HERE'S AN IDEA: Have all your friends come over, crack open a bottle (or 27 bottles) of wine and start swiping for each other. Then, invite all of the guys to come over and throw your own little singles party.
Now that sounds like fun to me.
All right, now quit your complaining and start getting pumped for your hot, steamy, Valentine's Day hookup!
Citations: You Might Be Surprised At How People Really Feel About Valentine's Day, Science Says (Elite Daily)