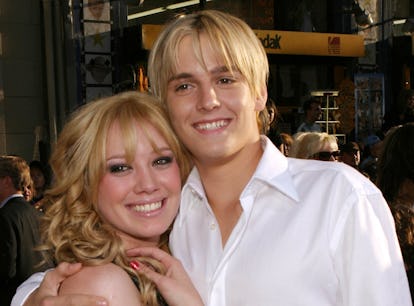 Hilary Duff & Aaron Carter's Relationship Timeline Is Bittersweet
Christopher Polk/FilmMagic/Getty Images
Hilary Duff and Aaron Carter's tween love story will always be a sweet one. The duo might have dated two whole decades ago, but their relationship is still unforgettable. (A moment for the iconic Christmas-themed Lizzie McGuire episode, "Aaron Carter's Coming to Town.") Although they didn't stay in touch in the years after their breakup, they always seemed to have a soft spot for one another.
After Carter passed away on Nov. 5, Duff took to Instagram to share her condolences. Despite all the time that has passed since they dated, Duff had super kind words to say. "For Aaron- I'm deeply sorry that life was so hard for you and that you had to struggle in front of the whole world," she wrote. "You had a charm that was absolutely effervescent... boy did my teenage self love you deeply. Sending love to your family at this time. Rest easy."
As we mourn Carter's life, here's a look back on his adorable relationship with Duff.
Although these tweenage lovebirds never rekindled their romance, it seems like they both had nothing but affection for each other.