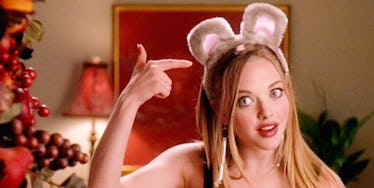 12 Essentials You Should Pack In Your Purse For Your Halloween One-Night Stand
Paramount Pictures
Halloween is literally around the corner. I know you gals are going to run around your city with props in your hands to match your costumes, but there are also a few other things you shouldn't leave home without.
Because Halloween also happens to be the most convenient holiday to find a one-night stand.
With that said, there are certain things you're going to want to pack in your little purse so you a) don't die, b) always look nice and c) prepare for a possible sleepover with a dude.
So, my ladies, here are 12 essentials you should bring out with you this Halloween.
1. Travel-sized dry shampoo, $12
Girl, you NEED this travel-sized bottle to tame your costume hair the next morning. Personally, I swear by Living Proof:
2. Retractable hairbrush and mirror, $9.95
Kill two birds with one stone, and pack this nifty retractable hairbrush that comes inside a compact mirror. Because if you do find a hot firefighter or sexy cop to take home, you'll want your bed-head to look just right.
3. Rollerball perfume, $28
Every girl needs a little rollerball in her purse to freshen up every couple of hours; besides, you'll probably be sweating dancing around in your costume all night. One of my favorite scents is Marc Jacobs. Get it here.
4. Condoms
Do I really have to tell you these are necessary? I didn't think so, but I will anyway.
PSA: PACK CONDOMS ON HALLOWEEN. Thank you.
5. Feminine wipes, $6.79
Your vagina has to be ready for that Halloween peen. Summer's Eve is pretty legit:
6. Make-up remover, $29
I love Clinique's products. Take this on-the-go makeup remover to wipe off all your weird Halloween makeup the next day.
7. A mini-flask, $16
We all spend a crap ton of money on Halloween, so with this flask, you'll save money at the bar. Pack a cute little one like this, though, so you don't look like a crazy homeless guy.
8. Mini-deodorant, $8
You may be dressed like a zombie, but you don't want to smell like one. Get a mini-deodorant here.
9. Portable phone charger, $11.99
When you're out, you might lose your friends who want to make sure the guy you're with isn't a murderer.
So please keep your phone charged at all times with this cute, compact phone charger, so your friends can reach you.
10. Ballet flats, $24.99
Preferably foldable ones like these, so they don't take up too much room in your tiny purse.
When you're doing that inevitable walk of shame in frigid October, the last thing you want is to do it in your retro white boots from your '70s outfit, or your high heels from your "Poison Ivy" outfit. Eff that.
11. Leggings, $17.90
Leggings are basic, but super comfy. When you're coming home from some dude's apartment in the AM, wouldn't you rather wear these bad boys instead of your tutu from last night?
Throw on his tee and pair it with your leggings. You don't need to spend a fortune for them, either.
12. Blowfish, $11.99
Pop these safe tablets to avoid the Halloween hangover and prepare yourself for more fall activities the next day. You're welcome in advance.
Be safe this Halloween, ladies! And most importantly, have fun.