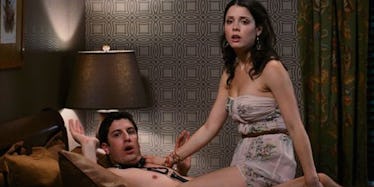 Guys Confess How They Really Feel About Your Flaws When You're Naked
Universal Pictures
I'm always wondering what the hell it is the guy I'm sleeping with thinks of my naked body.
Does he notice my stretch marks? That extra layer of flab on my thighs? That weird birthmark on my upper right shoulder?
And I know I'm not the only girl out there who has her insecurities. Whether you're sleeping with some guy you plan on never seeing again or your long-term boyfriend, sometimes, you get between the sheets and feel bad about the one thing you hate about your body that plagues you.
You know, that thing you'll never open up to your guy about, but will just try to continue to hide in the shadows of your dark bedroom.
It's always nice to find out that, well, guys don't care very much about your weird birthmark or the stretch marks you have from your high school fat phase. Usually, the guy is just happy to be in bed with you. And ladies, that's a wonderful, wonderful thing.
Guys on the r/AskMen thread came together to reassure all of us how they really feel about your flaws when you're naked. And I'm happy to report that the overall consensus is "IDGAF."
This guy knows we all have imperfections:
This guy just doesn't want to be around something that "smells bad":
This guy doesn't care about stretch marks, whether you're a one-night stand or his girlfriend:
This guy is just happy to be in the same room as boobs:
This guy knows women don't look like porn stars:
This guy is...uh, just getting deep about nakedness:
This guy thinks flaws make you "real:"
This guy thinks flaws are "irrelevant:"
This guy wouldn't even notice:
This guy is just glad he got you into bed:
Citations: How much do things like darker inner thighs, darker vagina, stretch marks on stomach, matter when it comes to you finding a woman attractive when she's naked? (Reddit)