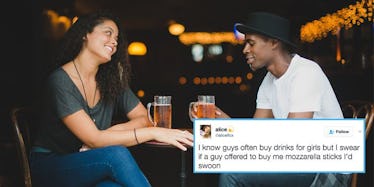 15 Posts About Guys Buying Girls Drinks That Prove We Only Date For The Free Stuff
It would be impossible for me to name all of the sloshed archetypes you'd find in a dive bar on a Saturday night.
Now, what I can confidently say is, odds are, you'll find at least one mediocre-looking "bro" hitting on any and every female who orders her drink next to him.
While his cologne clogs your nostrils and he continuously attempts to wrap an arm around your waist, he doesn't understand how badly you really just want to escape.
To appease him (though, you totally don't have to), the best decision is to make some small talk, smile and accept the drink. Hey, while you're at it, you might as well order some shots, too.
Because let's be real: Everyone — girls included — loves free things. And guys will always buy girls those drinks, even if they get nothing in return. It's just the way the world works, people.
Here are 15 tweets to prove all ladies feel the same way when it comes to receiving drinks from men: that dating for free stuff is basically a way of life.
The true way to my heart is with FREE globs of breaded cheese.
Squawking is the new "bend and snap" of 2017.
We'll go for actual beers once I get my SAT results.
It's all about that equal amount of give... and mostly take.
I have no time to pretend I'm interested.
I want the free stuff, but I don't want it THAT badly.
I mean, have you seen how much a Frappuccino costs these days?
Books over Bud Lights any day of the week.
No money? No problem.
"Master manipulator" looks perfect on a resume.
I could use that money toward bigger and cuter things.
Yes, you still got it... for free.
Don't men know a burrito bowl is expensive?
I come out victorious every single time.
Free liquor and nacho platters? Is there anything better?
Free drinks are always the best drinks.
AND, they're even better when some type of grub attached.