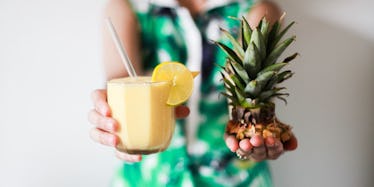 8 Perfect Drinks Every Guy Should Order A Girl At The Bar
Let's face it -- figuring out what to order your date at the bar without having to ask is never easy by any means.
As a matter of fact, you're practically taking a leap of faith with every attempt you make.
We're talking super-risky business here...
Luckily, we have a few pointers to help steer you in the right direction when it comes to pleasing her at the bar this summer. And we're not talking about barstool back-rubs, either!
We're talking about the most effective ways to turn up without her turning down your drink offer.
Below are eight perfect drinks every guy should order a girl at the bar:
Rum and Coke
Looking to add a bit of a kick to your night early on?
Say no more. Be confident in the classic rum and coke. With all drinks, you have to first sniff out if your date even appreciates rum. Some people don't. I know, crazy right?
If you happen to get the slightest hint she does, in fact, like rum, you're in luck!
Order up a rum and coke to get the conversation flowing and prove to her that you can loosen up if you have to.
After all, what's a happy hour without a little rum and a little emotion?!
Chardonnay
Gentlemen, instead of going straight for the vodka shots, perhaps you should take things slow at first. Keep it simple and start off by ordering her a glass of Chardonnay.
It screams (or softly sings, rather) "I want to get to know you."
That should buy you much needed time to figure out what she actually likes to drink if a rum and coke isn't her cup of tea. And besides, who wouldn't want to bring a little class to your casual date at the bar?
After all, it makes your intentions clear... You just want her to be comfortable!
Prosecco
Similar to a glass of Chardonnay, you're taking things slow and remember, patience is admirable.
Fly private from France to Italy without leaving your barstool by ordering her a fresh glass of prosecco. This leaves room for the good stuff when you later decide to start getting serious with your drink orders rather than ruining it with beer.
She'll also be able to sniff out that you're not completely crazy since you didn't go straight for the shots, shots, shots!
Gin and Tonic
Is she not a fan of whiskey? No worries, these things happen and we're here to help save the night.
Another classic highball cocktail you can go with is a gin and tonic.
Not only have you moved passed the super-casual glass of wine, but you've now ventured into safe territory. A gin and tonic is perfect for just about any occasion you can think of... meaning it's nearly impossible to go wrong here!
Gin, tonic water, a little lime, a little garnish and she's all set.
This is equivalent to having a Superman shirt underneath your button-down.
French 75 Cocktail
Feeling bold and confident? Roll the dice with a cocktail!
Sure, classic drinks are often all the rage during bar outings, but it never hurts to take a look at the specialty cocktail menu, either.
With a French 75, which concocts gin, champagne, lemon juice and sugar, be prepared to let the good times roll. Not to mention, this is a perfect complement to your whiskey on the rocks.
Does it ever hurt to show her you can be daring while looking out for her at the same time?
Paloma Cocktail
Here's where things get fun: tequila.
Of course, we wouldn't advise you to order up endless rounds of tequila shots although she may totally be down to embark on that journey with you. But we would recommend asking for a Paloma.
Commonly prepared using grapefruit soda and tequila, a Paloma will bring a burst of flavor to her taste buds with a kick.
Let her know you're done playing games and you want to close the summer out on a good note.
Margarita On The Rocks
Every woman likes a man who always has a few tricks up his sleeve.
This is where the margarita comes in handy. But make sure it's on the rocks -- or else! Ordering up one of these will let her know you're ready to unwind with her even though you're not Spring Break-ing poolside.
So, go ahead, reveal that she's the only person in the room who matters without saying it.
Bacardi Limonade
Again, this is all about playing it safe and there's no better way to do that than to go with a Bacardi Limonade.
Ironic, isn't it? I know. And that's because, after ordering one of these, she'll want another.
That's when your casual date night turns into a full-blown, two-person party! Order her one of these and she'll see that you have no objective other than to make the night unforgettable for the both of you.
And besides, it will most likely make her top five drinks list without thinking twice!