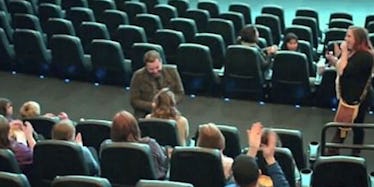 This Guy Proposed To His GF With A Movie Trailer He Made And It Left Her In Tears
YouTube
28-year-old Ryan Langston and 26-year-old Adrianna Neil were friends for 10 long years before they fell in love one year ago.
Their romance has been so wonderful that Langston was sure Neil was the one he'd want to spend the rest of his life.
But after 10 years together, you can't just give a girl any proposal. No, you need one that leaves your girlfriend with this kind of look on her face:
(That's a picture of Neil in the midst of her proposal. I didn't just insert a blurry screenshot of a random person there for no reason.)
Langston told Neil that they were going to go see "Beauty and the Beast" as an early 26th birthday present to her. Little did she know, she was in store for way more than a magical Disney movie experience.
Neil was casually watching the previews when she suddenly saw what I'm sure will be her favorite movie trailer of all time:
For his proposal inspiration, Langston, a graphic animator for Cinetopia theaters, told the Huffington Post,
We both love movies or anything that brings an emotional experience, and I wanted to propose in a way that would be memorable. I knew that I wanted it to be something really special for her.
It took an entire month for him to plan this epic surprise for the love of his life. He couldn't have made it happen if it wasn't for the staff at the Vancouver Cinetopia theater where he popped the question.
"The staff was amazing at helping me pull this off," he said. "They ran the test of the trailer several times that day during intermissions just to make sure it would run without a hitch."
And if you didn't already guess, NEIL SAID YES!
The happy couple are hoping to get married in September 2018. We'll have to see if they feel inspired by the fantasy dream from the trailer and head off to Italy for their honeymoon.
Citations: Watch Woman Figure Out Movie Trailer Is Really A Marriage Proposal (The Huffington Post)