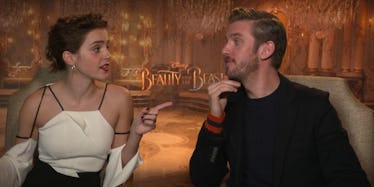 Emma Watson Slays Disney Song Lyrics With 'Beauty And The Beast' Co-Stars
YouTube
Sure, Emma Watson can sing you every bar from "Beauty And The Beast," but can she tell you what Hakuna Matata means?
Disney music is infuriatingly catchy. That studio produces songs and lyrics that do not go in one ear and out the other.
They go in one ear, start a family, buy a house, make a network of friends and live out the rest of their lives somewhere between the back of your head and your eyeballs.
Just like the rest of the planet, the cast of "Beauty And The Beast"'s live-action reboot clearly has a buttload of Disney music stuck in their heads.
The question is, though, could they survive in a screen-less game of Disney karaoke?
During the video, Emma Watson, Josh Gad, Luke Evans, Audra McDonald and a few other "Beauty and the Beast" stars all try to finish sentences from famous Disney songs.
As expected, everyone does pretty well, except for Gad who sort of gives up in the end.
The easy winners of the lyric challenge were Emma Watson and Dan Stevens, who nearly jumped through my computer screen when they realized they both knew the lyrics to "Let It Go."
The other songs they had to finish lyrics from were "A Whole New World" from "Aladdin," "I'll Make a Man Out of You" from "Mulan," "Hakuna Matata" from "The Lion King" and "When You Wish Upon a Star" from "Pinocchio."
This is far from the hardest test the cast of "Beauty And The Beast" has had to endure during their press tour for the movie.
Earlier this week Josh Gad, Luke Evans and Dan Stevens made an appearance on "The Late Late Show With James Corden" where they almost died trying to put on a musical in live traffic.
You can check out the video from their crosswalk musical here:
If I never see James Corden in Belle cosplay ever again, I would be totally fine with it.
Citations: Watch the 'Beauty and the Beast' Cast Struggle to Remember Disney Lyrics (Elle)