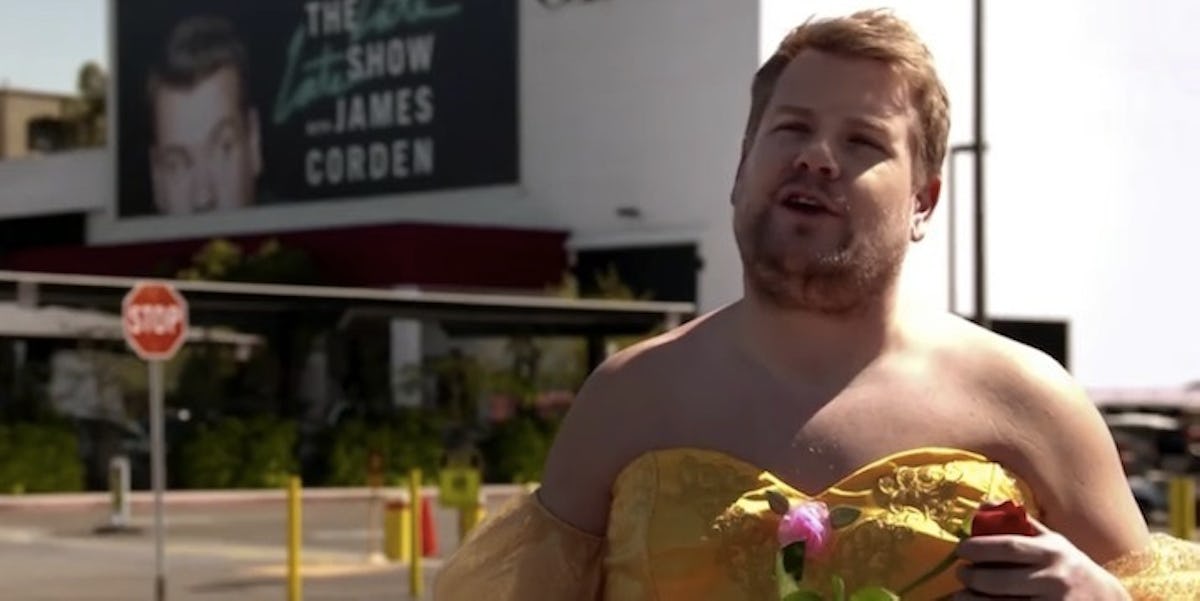 James Corden Dressed As Belle In Hilarious 'Beauty And The Beast' Remake
YouTube
James Corden's brilliant "Crosswalk Musical" segment is back, and this time he's taking on the Disney classic, "Beauty and the Beast."
Last May, he took on "The Lion King" with Seth Rogen, which was an instant hit.
Now, on Wednesday night's episode of "The Late Late Show," Corden and his theater company took their production of "Beauty and the Beast" to somewhere no one's ever taken it before — the crosswalk on Beverly Boulevard at CBS Studios.
And joining Corden in this endeavor was none other than three stars from the upcoming live action "Beauty and the Beast" film: Luke Evans (Gaston), Josh Gad (LeFou) and Dan Stevens (the Beast/the prince).
Emma Watson, it seems, couldn't make it, but don't worry, the understudy for Belle is just a good, maybe even better than the original.
The whole production was honestly a sight to behold.
So let's walk through this, shall we?
First, Corden broke the news to the company of their production, much to their excitement.
Then newcomers Luke Evans, Josh Gad and Dan Stevens joined rehearsal.
Gad had to dodge balls being thrown at him while he learned Lumière's lines.
Corden criticized Steven's beast-ing abilities sans CGI.
And he tested Evan's "fight like Gaston"-ing abilities by... fighting him.
Finally, it was time for opening night. Yes, Corden was Belle, and yes, he wore a dress.
Honestly, everyone's costumes were on point.
First, they performed the opening number, "Belle."
Next up was "Gaston," Luke Evans and Josh Gad's time to shine.
Gad also took over for Lumière in "Be Our Guest."
Finally, Corden and Stevens took the street for their "Beauty and the Beast" dance scene.
I'm not saying the curtain call made me cry, but I'm not NOT saying that, either.
Film just can't capture the true magic of the live theatre, you know? I really think this is what Shakespeare would have wanted.
(Don't ask why Shakespeare is getting involved. He just is, OK!?)