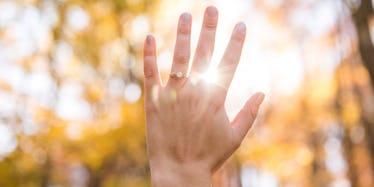 This Guy Found A Touching Way To Include GF's Deceased Father In Proposal
When Brian met Monika, the woman who would one day become his wife, her father had just passed away.
She was distraught. In her own words, "to say [she] was broken, lost, and devastated, would be an understatement."
Dating was pretty much the last thing on her mind, as she had essentially given up on the idea of marriage all together. "I had pretty much written off the idea of ever getting married after my dad died since he couldn't walk me down the isle," she wrote on HowHeAsked.
Two years to the day of his passing, she decided to give love — and Brian — a real shot.
They went for a pretty unconventional first date: her father's grave.
The two of them sat there, and she told Brian all about how much her dad meant to her and what an "amazing father" he was.
In that moment, everything changed for her. She knew Brian was the one: "I never believed when people said, 'When you know, you know,' but after this first date of ours, I knew that this was my future husband."
That date took place on August 27, 2016. Just eight short months later, on May 6, 2017, Brian asked her to go back to her father's grave.
This time, he brought her mom along. Monika didn't think anything of it because her mom goes daily.
The three of them were sitting by the grave reminiscing about what an awesome man Monika's dad was, when Brian dropped down on one knee and popped the question.
Right where her father was buried and right where they fell in love for the first time, Brian asked his girlfriend:
I wanted the two most important people in your life to be a part of this, so I brought you here, where we came on our first date. I knew on that date that you would be my wife, so, Monika, will you marry me?!
Needless to say, she said yes!
The wedding will take place on June 2, 2018, and Monika knows her dad will be there "every step of the way that day."
If you're not crying by now, I'm worried you don't have a soul.