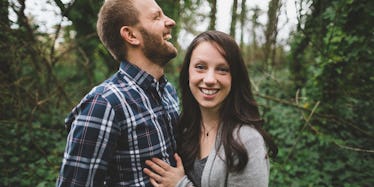 8 Things Every Guy Needs To Consider Before He Gets Down On One Knee
Rob and Julia Campbell
Guys, I have news: I'm engaged! I know you don't know who I am, so this probably doesn't mean shit to you, but I just had to say it.
I'm marrying the woman I love, and I did so by writing a very personal proposal in a very public magazine, Elle Canada. I had cold-pitched an editor a few months back about proposing in the mag, and she loved the idea, asking that it be in the next issue. That meant all of — the writing, rewriting, editing, designing, you name it — had to be done in a week.
About a month later, with the magazine and ring in hand, I proposed by handing her an advanced copy of the tome bookmarked to her very own article (titled: "Are You The Girl?") in our backyard. After reading the 1,000-word proposal, she said yes behind a veil of streaming tears. I didn't cry, but I was damn close. (You can watch the video here.)
The proposal went off without a hitch. And now that I'm a newly minted fiancé, I felt as though it would be beneficial to impart some wisdom based on the successes and failures in planning my own proposal.
So, let's get to it.
1. First, know that she'll say yes.
Though this insight sounds kind of obvious, we've all seen those viral videos of guys getting turned down in very public settings. I'd never want that kind of thing to happen to you. To make sure it doesn't, I recommend you set yourself up with what the industry calls a "pre-yes."
Establishing one is easy, considering the likely event that you've both breached the subject of marriage in your relationship. (And if you haven't, you should probably do that before proposing.) In these conversations, try to uncover little gemstones of knowledge.
Does she even want to get married? And if she does, does she want you as her groom?
The easiest way to find this kind of thing out is by studying her language. For example, does she say, "When we get married," or "If we get married," when the topic is brought up? Spotting something as simple as this can tell you if she views your marriage as an inevitability or a possibility.
In my case, my girlfriend and I knew we would marry each other. We'd told each other this plenty of times. The surprise came in how early I asked. (We'd been together for just over a year and a half.) But, she knew I'd propose one day.
2. Don't make it too obvious.
So, you've established you two are meant for each other. This is great news, man! The problem now is, does she know you're going to propose soon? Have your conversations led her to believe you could be proposing any day now?
If this is the case, you have to rectify this. Spontaneity is one of the greatest aspects of a proposal, so throw her off with a (completely non-offensive) conversation that could lead her to believe otherwise. I'll admit there were a few times I believed I'd made my own pending proposal too obvious. To rectify my faults, I brought bring up things to make her suspect otherwise.
Since we were looking to purchase our first home together, I told her I'd like to have a house before I even considered proposing. Also, at a point of desperation, I sat her down and told her I wanted to pursue a common-law relationship, and that marriage was a spectacle we didn't need. We loved each other, and that's all that mattered.
She didn't like this latter idea much, and I wouldn't recommend you do this (even though it did work in retrospect). Like I said, learn from my mistakes, guys.
3. Find the right ring.
She's going to be wearing this ring for the rest of her life, so let's make sure it's something she's going to like. First off, understand size doesn't matter. Like penises, as long as it's not too small, things are fine (for the most part).
Of the four Cs concerning engagement rings (cut, color, carat and clarity), cut is what matters most to her. Cut not only refers to the shape of the diamond, but the quality of the finished stone and how sparkly — and perceptively large —it is.
Most guys tend to favor size and go for the largest rock they can afford. This is wrong. Carat weight is not the most important trait in a ring; it's just the most expensive. Work with your jeweler to edit your ring and achieve the best look (and price) for your budget.
I myself spent a good two hours at the jewelry store when I purchased my fiancé's ring. I was spending an arm and a leg on the damn thing (two months of income, as they say), so you bet your ass I was going to make it everything I wanted it to be. My advice? Find a ring with the right bones, and edit whatever you can to make it more personal for her (and affordable for you).
I knew my fiancé wanted a yellow gold ring with black diamonds. Fortunately, black diamonds are slightly less expensive than regular. So, I was able to add in other areas, which I did in lined diamonds along the band (a much more affordable option. The solitaire diamond on a ring is, without a doubt, the most expensive.)
Your jeweler will likely have a calculator on him or her, and with every suggestion made, I asked he work the numbers to give me a price. I edited the absolute crap out of the ring. So much, in fact, it took almost three months to make.
It's also a good idea to have a friend of hers accompany you. But if that's awkward, go for mom. I did, and her advice was invaluable. A female perspective is super necessary, as we guys tend to use size as a primary status symbol. Instead, my mom gave me an education on diamonds, took the size of her finger into consideration and pointed out small details I wouldn't have noticed otherwise. Believe me when I say women know what other women want in a ring.
4. Be creative.
Everybody's going to be asking (both you and her) how you popped the question, so you're going to want to make sure it's a story people want to hear. I recall a conversation I had with a friend earlier in the year who said, "If my boyfriend proposes to me in a restaurant, I'd grab the box, hand it to him, and say, 'Try again.'" This was harsh, but I understand where she's coming from.
You want your fiancé to feel special, and you show this by proposing in a way that's unique to the individual. That being said, this doesn't mean the proposal has to be a spectacle. Money spent means nothing. Many upcoming brides prefer an intimate proposal. My fiancé is one of them.
Knowing she isn't one for spectacle, I handed her the magazine in the privacy of our own backyard. She wouldn't have wanted an audience, a flash mob, none of that. Also, I wanted her to understand what she was reading, and doing this in a public setting would have affected that.
5. Be very careful about the people you tell.
I knew the ultimate authority in my girlfriend's life is her mother. Since that was the case, I wanted to let her mom in on the proposal. But as time went on, I slowly discovered her mom (now my mother-in-law) loved her some gossip. With this revelation, I ultimately decided it was best to keep my proposal from her and limit this information to people in my inner circle whom I knew I could trust. I only told my parents and my best man. Tell as few people as possible.
I was right to trust them. I even went away with my fiancé, best man and his girlfriend to Mexico for the week, and not a thing was said. Not even after ample amounts of booze, sun and limited sleep. Like, how?
6. Make sure you're both photo-ready when the moment comes.
This sounds stupid, but trust me, she's going to want to capture the moment in photos. If she isn't looking camera-ready, she could be less inclined to post pictures until she looks her best, which, I don't know, kind of takes away from the image's authenticity, doesn't it?
An easy way to make sure she's looking camera-ready is to tell her you're going somewhere fancy, even if you aren't. You can't tell me she'll be disappointed you didn't take her to a nice restaurant when she has a rock on her finger.
7. Know the day will be a complete blur.
My own advice would be to get engaged as early in the day as possible. That way, you're not nervous (which you will be, no matter how confident you are that she'll say yes). But also, you'll have the day for phone calls and the congratulatory drinks that inevitably happen.
After posting our proposal, my fiancé received three different phone calls in the span of a half hour. Being that it was earlier in the day, we hadn't dipped into the drinks. So, we were coherent and had more time to chat.
8. Most of all, make it about you two.
No matter how grand or how small, as long as your proposal represents the two of you authentically (and she says yes, of course), you've done a fantastic job.
There's a lot of pressure on the proposal (too much pressure), and we feel as though we have to compete with other proposals to establish just how strong our love is for our fiancé. But then, we lose the idea of the proposal altogether. It's not about competition or anybody else; it's about the two of you.
At the end of the day, a proposal should simply remind the two of you of when you were young and in love. It's when money wasn't ample, but you worked your ass off to get her that rock. It's about romance and humble beginnings, and when love was all that mattered.