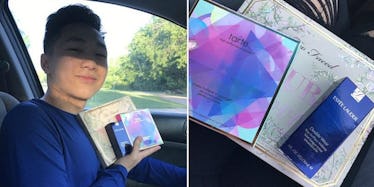 This Guy Bought Makeup For His GF When She Was Sad And Now Twitter Wants In On It, Too
Twitter
YOU GUYS, THERE IS HOPE FOR THE MEN OF THE WORLD.
But unfortunately, there's no hope for them when it comes to getting trolled by girls on the internet.
Earlier this week, a girl named Devanne Tran, who lives in Arlington, Texas, was having a rough week at school. (I feel you, Devanne. Aren't we all?)
So she did what any emotionally aware person would do: She shared the fact that she was sad with her boyfriend, Ben Nguyen. You know, instead of bottling up her emotions inside and telling everyone she's fine.
Perhaps we should all start sharing our feelings more often because, lo and behold, Ben came to her rescue with the only happiness we all have left: MAKEUP.
Yes, Ben hooked Devanne up with a makeup palette from Too Faced, a palette from Tarte and Estée Lauder Double Wear Foundation. DAMN, BEN. YOU KNOW WHAT YOU'RE DOING WHEN YOU WALK INTO SEPHORA.
"I was so happy I started crying," Tran told BuzzFeed News.
Honestly, I'm not sure whether to be impressed by Ben's solid choices or pissed that he didn't buy it for me.
But apparently, I'm not the only one who feels slighted. Hundreds of people have now responded to Devanne's original tweet, telling Ben they're also sad.
YEAH, BEN, WE'RE ALL SAD. SPREAD THE LOVE.
You know, Ben, there are a lot of sad people in this world.
This is serious, my dude, there are people out here who NEED YOU RIGHT NOW.
If you or a loved one has been diagnosed with mesothelioma, contact Ben, as you may be entitled to makeup compensation.
Apparently, we all have to find new boyfriends now.
TBH, same. Help a girl out, Ben.
DON'T LET THIS GIRL DIE, BEN.
With great power comes great responsibility. And unfortunately, Ben didn't realize how much this responsibility would cost him.
Apparently, this wasn't Ben's first hurrah when it came to buying his girlfriend makeup, though, this is the most he's ever gotten for her.
Tran said, "It did make me feel better because he knew how upset I was, so he did what he knew would make me happy even though it was expensive."
According to the couple, even people at their school have been telling Ben they're sad in person, but luckily, the couple thinks everyone's jokes are pretty hilarious.
GET YOURSELF A BEN, EVERYONE. You deserve it.
Citations: People Trolled This Guy So Hard For Buying His Girlfriend Makeup When She Was Sad That It's Become A Meme (BuzzFeed News)