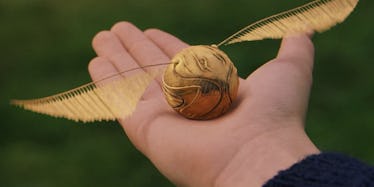 This Guy Used A Golden Snitch As A Ring Box For His Insane 'Harry Potter' Proposal
Warner Bros.
If you thought that the Harry Potter craze would ever die down, then you are a sad, sad human, and I don't really know how to help you.
What was — and still is — the most magical story of our generation is continuously making for the most magical love stories of people's lives, as we see Harry Potter-themed weddings and proposals at every corner.
But, you guys, this one man's Harry Potter-themed proposal had an extra special touch that will 100 percent make you say "ACCIO!" so fast.
Uriel Palma, a member of the U.S. Army, was deployed in Egypt when he realized he wanted to propose to his girlfriend, Trechsel Hall, The Huffington Post reports.
Now, Palma knew Hall was a huge HP fan, so like any good partner, he went to the ~interwebz~ to get some ideas for the most magical proposal ever.
After turning down a bunch of ideas that probably only Muggles would use, an idea on Bored Panda sparked his interest. But of course, he couldn't make this special surprise happen on his own, so he teamed up with Asher Freeman, a jewelry designer from New Zealand, to make the most beautiful goddamn proposal touch I have ever laid eyes on.
You guys, Palma proposed with A GOLDEN SNITCH RING BOX. HOLY F*CKING CRICKET. (Seriously, though, how was he able to catch it?)
You can see the ring box in action in the video below:
Did you catch what was used to unlock the snitch in the video? Well, be prepared to fall even more in love with Palma (even without a bottle of Amortentia).
To unlock the golden snitch, Freeman created a teeny, tiny Nimbus 2000 broomstick (it's the fastest model yet!) to unlock the box. MERLIN'S FRIGGIN' BEARD, THIS IS EVERYTHING.
"It was his idea to be able to lock the snitch with a mini Nimbus 2000 broomstick charm," Palma told The Huffington Post. "The guy is smart."
Palma said he actually gave Hall the snitch before he proposed. While on a trip together in Japan, he presented her with the snitch, and she didn't know how to open it. That's cruel, Uriel.
Later, though, when he was ready to propose, he gave Hall the broomstick, she unlocked the box, and every witch and wizard's heart burst simultaneously, probably.
That is SUCH a risky move, you guys. What if Hall lost the snitch? What if she forget to bring it on the night of the proposal? What if the snitch accidentally opened before Palma was ready?
Well, it looks like magic was on their side in this situation — and even while Palma was deployed. Hall had actually asked Palma to read the Harry Potter series while he was away. "Those books definitely helped pass time during boring duty hours," he said.
And just in case you wanted your heart to hurt more than a Cruciatus Curse, Palma said about Hall's reaction to the proposal: "Her smile will be engraved in my memories forever."
Now, I'm gonna go drown myself in butterbeer while I remember how single I am and how many Harry Potter-themed proposals I haven't had.