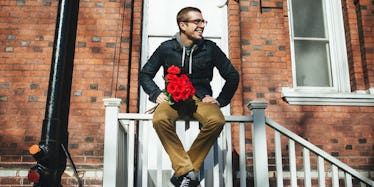 5 Reasons Why You Should Always Wear Your Glasses On A Date
We Are SISU
Are you afraid your glasses make you look dorky? Or that the opposite sex will never pay you any attention because of the spectacles on your face? It's time to stop living in the olden days, and learn how glasses can make you look sexy!
You can make glasses look good, enticing the opposite sex to take you out on a date and who knows, maybe even marry you!
If you have not embraced the idea of wearing your glasses in public (not to mention on a date) consider these five reasons to give it a try:
1. They're the ultimate accessory.
The primary reason for wearing glasses is to enhance your vision, of course, but you should love how you look in them, too. When you are confident in your appearance, you automatically become sexier.
You can make your eyewear work for you by choosing a pair (or two) of designer eyewear that accentuates the shape of your face, your skin tone and your style.
Just remember, trying to hide your so called "flaws" only hurts you in the long run, so go ahead and wear eyeglasses that suit your personality, and let yourself shine. Only then will you be able to walk with your head held high, despite your lack of 20/20 vision.
Consider it an accessory that not everyone is lucky enough to be able to wear on a daily basis.
2. They make you look smart.
Smarter than you already are, that is. Accentuate your intelligence with the perfect pair of mystifying spectacles, and you'll have a slew of eligible bachelors waiting to pick your brain. Choose a pair of frames that exude sophistication and fashion, and you'll be good to go.
3. They give you a distraction.
Have you ever found yourself without anything to say while on a first date? Rather than staring off into space and praying for something to come to mind, use your glasses as a distraction!
Taking your glasses off of your face not only gives your date a chance to see more of the true beauty that lies beneath your glasses, but it also gives you something to do. Wipe your glasses clean with your shirt while you gather your thoughts.
Once you regroup, put your designer eyewear back on, and resume the conversation. The elephant in the room will quickly disappear with this trick.
4. They show off your personal style.
Your clothing might not always accurately portray who you are, especially if you are going to a date right after work. But your glasses can speak volumes.
Are you retro chic? Cat eye glasses will show that off instantly. Maybe you're a bit more practical. If so, metal frames help you show off your practical side. And if you are more of a hippie type of chic, oversized and colorful optical frames will set the tone for you. Take the time to explore trendy eyewear to exude your personal style when your outfit isn't doing the trick.
5. They highlight your confidence.
Wearing glasses used to be reserved for the "nerds." They were the people who didn't care much about their looks, so they didn't bother with contacts.
The "cool" people, on the other hand, always had contacts on hand. They only wore their glasses at night, or when they were forced to because there was an issue with their contacts. These people would hide from the general public as much as possible until they had their contacts back.
Today, wearing glasses is a sign of self-confidence. It tells your date you are not afraid to show off who you truly are, and if that means a person without 20/20 vision, then so be it!
The glasses stigma has greatly changed over the years. Are you still hiding the fact that you wear glasses, and are torturing yourself with contacts, whether they are comfortable or not? Try breaking out of the mold and setting a new precedence with your glasses, and see how the opposite sex responds.
My guess is it will be a response in your favor.