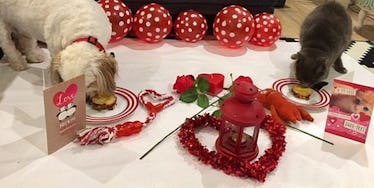 Girl Cooks A Valentine's Day Dinner For Her Pets, Is All Of Us Tonight
Aimee Jewlachow
Couples around the globe will probably be basking in each other's love and affection over a bougie dinner for Valentine's Day tonight, before making their way home for a sweet bang session.
Even though Aimee Jewlachow, from Brisbane, Australia, isn't currently in a relationship, she didn't let that stop her from celebrating the holiday with two of the most special loves of her life: her pets.
According to Daily Mail Australia, the 17-year-old decided she'd use February 14 as a time to honor the sweet connection she has with her dog Spot and cat Hercules... you know, instead of crying about being alone.
To do that, she proceeded to make Spot and Hercules a meal more extravagant than anything I've ever received from the guys I've dated. She said the whole thing made her feel "like a proud parent."
That's cool, I guess.
Aimee pulled out all the stops, dressing her animals up in festive bowties and reading them cards she'd written for the occasion, all while they feasted on home-cooked lasagna. The pets were also surrounded by flowers, balloons, toys and candles.
Even if she does get wifed up sometime in the near future, though, Aimee said she'll still find time to do something celebratory for Spot and Hercules.
"They are a part of my life as well, I see no reason why they shouldn't celebrate Valentine's Day with me," she said about her pets. "I hope people realise how much their pets actually mean to them, and how much their pets actually love them."
As it turns out, Aimee isn't the only Australian who would go to extreme lengths for their pet on Valentine's Day.
According to a study from Mad Paws, 40 percent of people down under spend Valentine's Day doing something unique for their pet, with 32 percent claiming their pets would be more devoted than a partner ever could be.
Aimee continued,
Every pet owner will understand the connection we have with our pets and how much they mean to us in our lives. They become a part of our family. Just like any relationship, they deserve a special celebration.
Australians seem to make a good point here.
You don't have to wait for a pet to text you back. They won't stand you up on a date... or cheat on you with their secretary.
That settles it. I'm getting a pet and moving to Australia.
Citations: 'They deserve it': 17-year-old creates Valentine's Day dinner for her dog and cat... as it's revealed a QUARTER of animal owners would prefer a date with their pet to one with their partner (Daily Mail Australia)