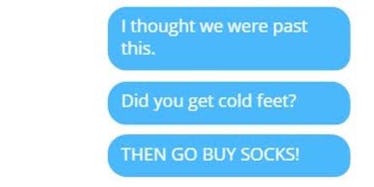 This Girl Was Ghosted By Her College BF After He Stole Her Dream Job From Her
Anonymous
This week we have Alex* who was ghosted by her boyfriend of three years.
In August 2012, I met the man who would become the love of my life. I was immediately infatuated. He was tall and tan, with dark hair and blue eyes. And he was new. Although I went to a large university, my degree program was very small. I graduated that year with only 25 other people in my program to give you an idea of the size. So we all knew each other, except for this new transfer student. So for this hella handsome fella to saunter in and plop down next to me… yeah, I was into it.
Fast forward three years to December 2015. I'd just finished traveling and was settling into a new town for a new job. He had just graduated with his master's degree and had grown a bit distant. I thought this was because of school stress (I was wrong). We had plans to move out to Montana together and start our own organic vegetable farm. We even had the town and house picked out. While applying for jobs, I had two really good offers: a job I didn't really want in the town we wanted to move to and a really awesome job in a town near where we were already living. He convinced me to take the awesome job. And I accepted because he'd been playing with the idea of staying to get his PhD. Plus, I could always just quit, right? After a long night of breaking in my new place (wink), we were cuddling in bed. I was chit-chatting, and he was pretending to listen (like always), when I told him how much I loved him. He pulled me into a hug and kissed me, and then, I fell asleep on his chest.
He pulled me into a hug and kissed me, and then, I fell asleep on his chest.
I woke up the next morning, and he was gone. I didn't think too much of it because I figured he had just gone to get the rest of his stuff from his old apartment. When I didn't hear from him for a few hours, I started texting him. No answer. I called him, too. Again, no answer.
This went on for days. I was literally losing my mind, thinking he had gotten murdered.
I went so far as to call his maid to let me into his old apartment. He was just GONE. I went EIGHT EFFING MONTHS before I finally found out the truth. One of his buddies had helped him orchestrate the whole thing and spilled the beans after running into me at a work conference. Basically, he had packed his stuff into a separate U-Haul and moved straight out West without me. He took the other job that was offered to ME. He was out there, living in the town we picked out, working at the job I had turned down at his request, growing organic veggies in a house similar to the one we picked out with some other woman he had already moved on with.
He took the job that was offered to ME.
ARE YOU FREAKING KIDDING ME?!
I hear a lot of crazy stories for this column, and I always think I've heard it all.
Like the time a girl was ghosted by her boyfriend of nine years ON HER BIRTHDAY, or the time a girl was ghosted by her boyfriend because he was a con man.
But this honestly might take the cake.
HE SECRETLY MOVED TO THE HOUSE THEY PLANNED TO SHARE AS PART OF HIS MASTER PLOT TO TAKE A JOB OFFERED TO HER SO HE COULD LIVE OUT HER DREAM LIFE? That is just bonkers. This guy is an evil mastermind.
What do you guys make of all this? Do you somehow see where he was coming from? If so, PLEASE enlighten me. Do you sympathize with her more? Have you gone through something similar to this?
No matter the case, I'd love to hear from you!
Share your thoughts below.
*Names have been changed.