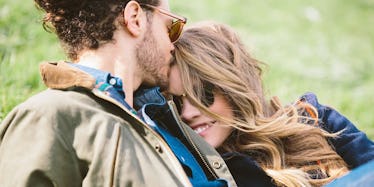 5 Simple Ways To Bring More Romance Into Long Distance Relationships
Stocksy
Long distance relationships: some completely shun the idea, claiming that they never work out, but others see the notion of a potential relationship too good to pass up.
If you believe it's impossible to add a little romance to the pot, check out these five ways to add romantic flair to a relationship that lacks the desired geographic proximity.
1. Video Calls
In today's world, technology plays a significant role in relationships. Chances are, you've probably used technology to assist communication in your existing relationship. A Skype call, Facetime or any form of a video call can be a great ways to simulate a face-to-face conversation with someone. It can be an overall better way to express yourself, thus making the conversation more interesting and passionate for both parties.
2. Voice Mail
Another great way to communicate is through voice calls, but everyone does that. Try something different: Intentionally leave a voice mail. This can sort of be like audible love letter or note. It adds a sense of surprise and sure, it might be a little cheesy, but many women enjoy cheesy little things when done earnestly. Try saying something thoughtful or charming when you leave her a message — she'll be smiling while she hears what you have to say.
3. Love Letters
Sure, this is an old method for wooing a distant lover, but it's also not one that many choose to pursue. Yes it's very cheesy and some of you may think it's outdated, but try to think of ideas that many aren't willing to put into action. When writing a letter, make sure to use your own voice — it'll be the most charming part of the letter.
You don't have to be Shakespeare to write a great love letter — just let your personality shine through. If you can do that, you'll be golden. Some ideas for letters could recount a past moment, speak to the next time you'll see each other or provide an update in your life. Or you could do what I believe to be the best idea: Write whatever you feel. Don't think about it too much and just express yourself.
4. Photo Updates
So the two of you are always texting, even when you're supposed to be busy. Text messages are ubiquitous and may be the foundation for a contemporary long distance relationship. So why not make it a little more interesting and intimate by sending her photo updates. You may already be receiving (or possibly even sending) dirty photos.
But, your relationship may actually mean more than nudes and dirty talk — not to say those aren't important (because they certainly are) but you may want to tone it down in that respect. Rather than tell her about what's going on in your life, just show her.
5. Sending Over Flowers
Most girls love flowers. Yes, it's nice to get her gifts when the right occasion arises, but not only will that be pricey, she might be a little overwhelmed. Flowers are a nice way to say, "Hey, you're special to me." Many florists provide you with the ability to purchase online. They deliver right to your door and usually give you the option of writing a message.
Don't to get too carried away with this, as you want the gesture to seem special. Overdoing it might take away from the special experience of receiving flowers; although, a surprise drop-off from the florist has romance written all over it.
Photo via We Heart It