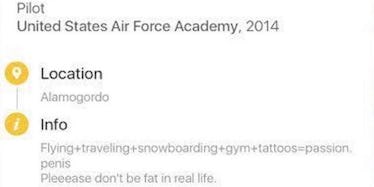 Bumble Bans Awful Fat-Shaming Male User From The App, So Now We Can Celebrate
Anonymous
A few weeks ago, a woman submitted the story of a guy who fat shamed her on Bumble to "Boom, Ghosted."
The two matched on the dating app and immediately hit it off. Then, they went on what she thought was a pretty good first date.
But this is where things took a turn for the worse.
Not only did he ghost her immediately following the seemingly good date, but she found out he created a new profile with this description in his bio.
We ran the story, and a few days later, I got this message from Bumble on my Instagram:
And they were dead serious about it. I gave them my email, and eventually, we tracked down the jerk who made a Bumble bio aimed at fat-shaming girls.
After a bunch of emails shot back and forth, I finally received this email from an exec over at Bumble:
Hi Candice! I've received a confirmation that his profile has been blocked on Bumble. Thanks so much for helping us track down the user and bringing this situation to our attention. Have a nice weekend!
Bumble's guidelines clearly state they don't tolerate disrespectful behavior on their app:
We're a very diverse community. This means you should respect other people's beliefs, interests and property while on Bumble. You should behave the same way on Bumble as you would in real life.
That's right, you guys. The feminist dating app lived up to its reputation by kicking off the douche lord who thought it would be socially acceptable to fat-shame girls on his profile.
So next time you're thinking about posting a douchey bio on your Bumble profile, it might be best to think again. (And by "think again," I mean don't do it).
Thankfully for all of us, the app has a zero-tolerance policy when it comes to condescending jerks.