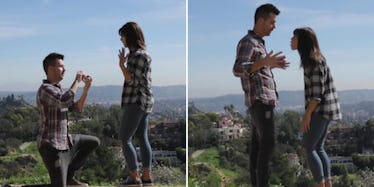 Hilarious 'Marriage Proposal' Video Shows How We Ruin Everything With Social Media
YouTube
Millennials only love one thing more than ourselves: getting "likes" on our social media posts. (Which, is kind of the same thing as loving themselves, now that I think about it.)
If you, like, exist, chances are, your newsfeed is currently flooded with an absolute onslaught of wedding engagement announcements and bridal party photo shoots.
Comedian John Crist took this concept on and released a fake marriage proposal video, called "The Millennial Marriage Proposal," highlighting just how absurd our desire to create the ultimate proposal has become and how the pressure to share what is happening IRL on social media takes away from the IRL magic of a moment.
Let's just say, for the couple in the video, crafting the "perfect" proposal is A TASK.
The funny video starts out with a cameraman seemingly hidden behind a tree, waiting for the proposal to begin.
As the groom-to-be gets down on one knee, his girlfriend asks, "Wait, you hired a photographer, right?"
What happens next is two minutes of sheer hilarity, as the girlfriend tries relentlessly to get everything just right for the perfect "shot."
She hunts for the correct angle.
She tries desperately to get sweeping shot of the skyline.
She HAS to make sure the lighting is correct.
And she... rethinks the angle about 50 more times.
Even though we all might recognize an engagement photo for what it (probably) is — a means to garner an extraordinary amount of social media likes, hearts, shares and, consequently, egos boosts and artificial validation — we still can't help but click that thumbs-up icon when we see it.
Why? Well, call me a romantic, but deep down, I personally believe in true love and hope the outrageously fake sunset in the perfectly filtered photo I'm seeing is a symbol of that couple's love, not an app.
Alas, as the saying goes, "Do it for the 'gram!"
Because yeah guys, let's all get engaged to someone we are going to spend every day with for the rest of our lives FOR THE 'GRAM:
Citations: This 'Millennial Marriage Proposal' Is Guaranteed To Make You Cringe (The Huffington Post)