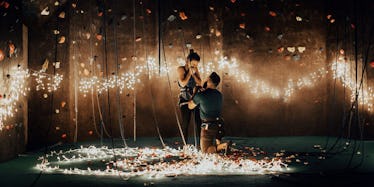 This Crazy Romantic Rock Climbing Proposal Looks Absolutely Majestic
Rock climber Luis Cardona pulled out all the stops for his surprise rock climbing proposal to girlfriend Maddy Thorpe early this December.
With the help of photographer India Earl, the images of the romantic evening take our breath away more than our fear of heights.
Cardona and Thorpe began their relationship climbing together at Elevation Rock Gym in Logan, Utah.
Cardona explained to Huffington Post, "Climbing is a huge part of me and Maddy's lives. When we first met that's basically all we did and we love climbing together whenever we get the chance."
To pull off the event that evening, Cardona waited for Thorpe to be at the top of her climb on the rock wall and took the opportunity to turn all the lights out.
At that point, her friends and family snuck in to help Cardona decorate with twinkle lights and rose petals.
Cardona says,
At first Maddy was a little frightened because she was hanging up there in the air in the pitch black! After she realized what was going on she started to cry. Then as I lowered her down and asked [her to marry me], she started laugh-crying or craughing as we call it. She was pretty stoked on it and of course I was too.
I don't blame them.
On her way down, Cardona played their song "First Day of My Life" by Bright Eyes, and it was honestly just too much.
India Earl reported on Green Wedding Shoes, "Luis pulled her in, told her he loved her more than anything else in the world and asked if she wanted to be his wife."
Watch the video below for all the feel-goods:
When the couple first met in 2015, they were having a handstand competition, and Cardona "almost broke [Thorpe's] arm."
Fortunately for him, their love story has a happy and beautiful ending!
Follow India and Patch Wedding Films on Instagram, and peep at the rest of the photos below:
Citations: A Romantic Proposal at the Climbing Gym (Green Wedding Shoes), This Romantic Rock Climbing Proposal Will Rock Your World (Huffington Post)