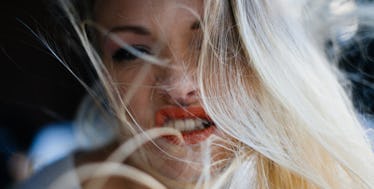 If You Ever Wondered What It's Like To Be A Single 35-Year-Old Woman, Watch This Video
Women may never know what the hell they want in life, but what happens to a woman when she turns 30 and is still single is downright scary.
Meet Paula Schargorodsky. She's a 35-year-old Argentenian woman who documented her story back in 2013 while going through all kinds of challenges that come with age, such as watching all of her friends get married one-by-one and having her family ask when she would finally settle down.
In this self-reflective piece shot by New York Times, she tells all, including her roots, past relationships and outlook on the rest of her life. But Paula puts it best when she says "female freedom has an expiration date," meaning that once you reach a certain stage, it just isn't cute anymore.
We hope Paula has found happiness since releasing this -- but I think I speak for most everybody when I say, find a goal ladies, not a man.
H/T: Upworthy