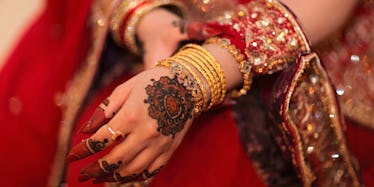 You Need To Know About This Ass Backwards Dating Practice In India
Yasir Nisar
The Indian government has intentions to introduce new guidelines for Indian matrimonial websites. They're hoping that with this new set of rules, people will stop using matrimonial websites for dating and start using them strictly for "the intent of marriage."
A matrimonial website is like a dating site in terms of its layout and filter process, only it's specifically used for people looking to get married and nothing else. If you're just looking to hook up, a matrimonial website is the last place you would go.
These new rules would grant the Indian government access to its users' legal identities by having them submit official documents, as well as keeping records of their IP addresses. Ravi Shankar Prasad, India's minister for communications and information technology, says that they are even approving "the standards to check cheating on such websites."
The government intends for these rules to eliminate any sort of "obscene" material and photos. The advisory was proposed last year after people allegedly complained about cheating, fake profiles and cyberstalking.
Matrimonial websites like Shaadi.com and Bharat Matrimony have a pretty big user base, estimated to be at 2.6 million people. Just so you have an idea of what matrimonial websites look like, here's a photo of Bharat Matrimony's homepage. Their sign-up form is divided up by age-old categories, including caste.
These sites already have "backwards" ways of helping people narrow down who they should get to know. The caste system dates back to as early as 1000 BC and ranks people based on the social classes in which they were born into. Following a caste system in America would be like refusing to date a guy just because his parents were garbage men.
While I agree that these new government rules would make it easier to navigate matrimonial sites, I also believe that they are a major step backwards.
By making sure matrimonial sites are used exclusively for marriage purposes, the rules further encourage arranged marriages -- also known as "blind" marriages -- in which two people who barely know each other agree to get married. Arranged marriages are so archaic that many modern Indian women either find no use for them or oppose them altogether.
Anita Jain, an Indian-American stationed in New York, chronicles her experiences of warding off strange emails from Indian dads looking to set her up with their sons. She argues that matrimonial ads and sites severely limit the Indian-American woman's dating experience, writing,
Far from being a novel approach to matrimony, these sites are a natural extension of how things have been done in India for decades. With other forms of dating the options seem limitless. The long kiss in the bar with someone I've never met before could have been just that, an exchange that has a value and meaning of its own that can't be quantified. Ditto for the one night stand.
Which brings me to my question: Why do dating/hooking up and looking for marriage have to be mutually exclusive? Though dating online sometimes means sifting through dick pics and nudes, that's just the price you pay. In order to expand your options and meet every type of person out there, you're going to have to deal with the sickos and the perverts.
Also, having the government tell you that some guy you're talking to is cheating on you seems like a huge invasion of privacy. Wouldn't you rather find out from the guy himself? But hey, that's just me.
There are some dating platforms for Southern Asians. Dil Mil and Kama are just two apps people can use for hooking up and casual dating. But they're not used nearly as much by Indian users as matrimonial sites are.
So it isn't just me who is against this shift, but any Indian person who wants to date his or her partner before marriage. Unless, of course, they is specifically looking to have an arranged marriage, in which case I stand corrected. But it's worth noting that maybe Indian people are only looking for arranged marriages because they've been conditioned to look for them for so long.
Citations: India plans to introduce rules to ensure that matrimonial websites aren't used for dating (Mashable)