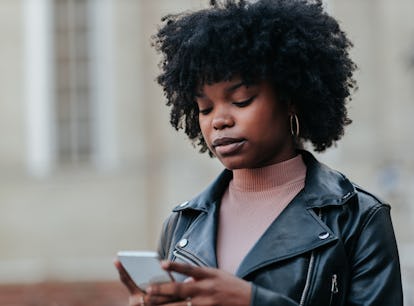 5 Members-Only Dating Apps That Make Raya Look Low Maintenance
Consider these your Raya safety schools.
Dimensions/E+/Getty Images
Raya is the quintessential exclusive dating app, where many A-listers go to meet — or try to meet — their match. (Rumor has it, even Lizzo has a profile.) That said, it's not exactly an easy app to join. The application process is involved, and you need to be invited by a current Raya member to even start it. Once you actually do submit an application, it goes through a committee of hundreds that assesses the applicant's eligibility — but their criteria of looking for "something extra" in applications is vague.
Having a creative career, a large Instagram following, and a well-known name can definitely help, but there are no guarantees. Not to mention, only 8% of people who apply to join Raya actually make the cut. Those odds are... not great.
That said, if you are craving a more curated and, ahem, exclusive dating app experience, Raya is far from your only option. Depending on what you're looking for, there's an app for that. From apps that double-check your annual income to ones that tap into your LinkedIn network, there's no shortage of ways to find your person.
Members-only and application-based dating apps definitely have their appeal (just ask Raya's waitlist of 100,000 people), but they aren't for everyone — that's kind of the point. That being said, if you want to dabble into more exclusive dating territory, Raya isn't the only option.
Whether you want your dates curated based on income level or a lack of duck face selfies, there's no shortage of options. Just remember, Hinge, Bumble, and Tinder will always be there for you if it doesn't work out.