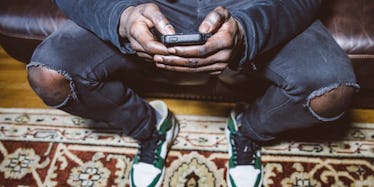 Guys Admit They'll Swipe Left If They See These 10 Things On Your Tinder Profile
I haven't been on the dating app scene in a while, but back in my day, there were a few things I would swipe left on without a doubt.
For example, mirror selfies (especially of the shirtless variety) and boring descriptions were a sure-fire no from me.
In fact, my editor Alexia even wrote an entire article on how dudes can step up their game to max the amount of right swipes they're getting.
BUT WHAT ABOUT MY LADIES? How do we amp up our Tinder game?
Well, obviously, I'm a huge fan of being yourself and not changing for anyone, but if you're noticing your dating app game's a little weak, I've got some tips on how to make it more guy-friendly.
Here are the 10 things real-life dudes agreed will automatically get you a left swipe on Tinder.
Height requirements.
Any variation of "fluent in sarcasm."
"Not looking for hookups!"
"IDK why I'm even on here!"
"I'm not like other girls."
"I only swiped right for your dog."
Must love dogs
I only swiped right on you for your dog
Always down for an adventure
Love Fireball
"I don't even know why I'm on here"
Their Instagram name
— Proto__
Empty descriptions.
Too many group pics.
Too many selfies.
Boring generic interests.
Obviously, if you really love dogs and hate boys under six feet, KEEP DOING YOU.
Just trying to help your game out with a little male perspective.