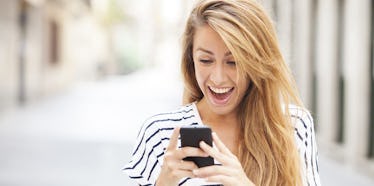 Why This Dating App Doesn't Want You To Chat Before Meeting Up With Someone
Alejandro J. de Parga
In today's world, we are constantly consumed by technology.
iPhones have replaced best friends and significant others, and social media lets you see who's having fun without you — a real treat!
Millennials who spend so much time on their phones can definitely have a difficult meeting people in the real world.
Most of us — especially in big cities — turn to dating apps like Tinder or Bumble for guidance. (Is J-Swipe really the only way I'm going to meet a nice Jewish boy?)
Is there a way to meet people other than online dating apps?
What if there was a solution that still allowed you to hold onto the comfort of your iPhone and social media?
What if said solution took things a step further and encouraged you to spend time with people in person? You know, IRL.
Behold: Spontime.
Spontime is an app that gives you the opportunity to find your significant other or just make a new friend by connecting in the real world.
To use Spontime, you must connect with your Facebook profile and create a spontaneous meet-up taking place in any location you want.
Then, you get to decide if you want to invite friends along or go at it alone and meet new people.
If you're looking to give your familiar dating apps a rest, here are five reasons to try Spontime.
You can use Spontime just for friendship — I'm serious.
Have you ever met someone on a dating app that wanted something more, but you were just interested in friendship?
#Guilty
To avoid this hiccup, Spontime does not have a chat feature at all.
The purpose is to meet other people in person in order to make real-life connections.
It takes away the pressure of chatting before meeting; you have to get together in-person to decide what works best for your friendship or relationship.
There's absolutely no swiping on Spontime.
Yep, that's right. Spontime does not include swiping at all.
You get to choose who joins you for meet-ups, whether it's your friend that you already know or someone new.
If you are looking to meet new people, Spontime will match you with others based on your shared interests and mutual Facebook friends.
You are able to meet someone that has similar likes and dislikes as you, not someone who's just interested in your D cups.
There will always be matches.
Unlike regular dating apps, Spontime doesn't match you with people who swiped right.
When users have trouble getting matches on dating apps, it can definitely lower their self-esteem. Luckily, Spontime will always provide you with connections.
You will match with people solely based on commonalities and mutual friends, never your appearance.
Takes the edge off, no?
You can live in the moment and be spontaneous.
With most dating apps, it seems you just keep swiping all day long and never leave your phone. Spontime works in the opposite manner.
The primary purpose of the app is to make it easier for people to spontaneously meet up with friends  — new and old — in real life.
That means you have to get off your phone.
Spontime wants to encourage its users to seize the moment.
You don't need to wait for people to respond to your messages.
Have you ever used a dating app, messaged someone you're into and never heard from him or her?
Have you made tentative plans with someone on a dating app that just never ended up happening?
Let's be honest, we've all been there.
Since Spontime doesn't let you chat before you meet, you will never need to experience these scenarios.
If someone is interested in meeting up with you, then they will join the meet-up you created.
There is no more need for second-guessing whether or not someone is interested.
Dating and meeting new people in big cities can be very difficult, especially for Millennials.
We know that the best way to meet people is offline and actually interacting with others in real life.
Sometimes, though, we need an extra push to remind us that we're spending too much time online.
Spontime is your push! Give it a go.