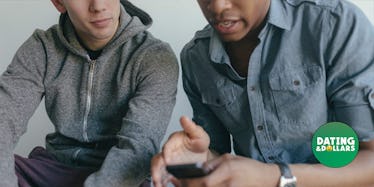 My Date Let Me Pay Even Though He Wasn't Interested, Now I Want My Money Back
Joselito Briones
I don't expect every date I go out with to like me.
I only came out of the closet a mere two years ago, and in that time span, I've attempted to make up for all that closeted time by dating... a lot.
In the beginning of my dating spree, I swiped right on Dragos, a nice, innocent-looking Romanian boy, who unfortunately has a name that sounds like he'd fit right in with the cast of "Game of Thrones."
And he would turn out to be the guy that taught me a very valuable money lesson about first dates. Because he would be the date that let me pay.
Typically, I swipe on Tinder only for what I know or what I'm comfortable with. For me, that means guys that are taller than me (which isn't that difficult), white and who look oddly similar to a friend or former love interest.
So, it would've been normal for me to have chuckled at a guy named Dragos and judge him instantly. But this time was different. Instead, I swiped right, we matched and we set up a date relatively quickly.
I'd had a previous successful date at Dos Caminos (a cool Mexican restaurant), so that's where we decided to go.
Yes, the margaritas were a surefire way to loosen me up and keep me from being awkward. And the food was good, but not that good.
When I met Dragos there, he was smart, we had an interesting conversation and I genuinely enjoyed my time with him.
By our second drink and several Mexican appetizers later, I figured he had potential. In that moment, I decided I was going to go on a second date with DRAGOS. (Who even was I?)
The second date never came, though.
I wasn't exactly ghosted, per se, but about a week after our first encounter and a few one-word texts later, Dragos finally blurted out that he wasn't interested. And I was pissed.
I know what you're thinking: I'm just bitter that someone rejected me, and I expect everyone to have the innate desire to get in my pants, no questions asked. But no, that's not even close.
Aside from me stepping outside my comfort zone to date someone who didn't fit my usual type, I was really bothered by the fact that Dragos clearly had no real interest in a second date from the get-go.
In any other case, that would be totally fine. We don't have to be soulmates. And if you have to return to your GOT castle, that's totally cool, too.
But if he wasn't interested, my big question is, WHY DID HE LET ME PAY THE WHOLE DAMN BILL?
At the time, I had a good job, and I made enough to support myself and still get comfortably drunk on a Wednesday night.
But Dos Caminos ain't cheap.
Between three drinks per person and the amount of food we ordered, I'd say the bill came to around $150.
Now, I'll pay if I'm the one who asked you out (I'm just a class-act gentleman — what can I say?). But over time, I've learned that, in the gay community, figuring out who's covering the bill isn't really a thing.
We're both guys, so we split the bill every single time.
But I wasn't up-to-speed on that knowledge just yet, so I shelled out the cash on my date with Dragos — eager to show him how much I enjoyed it.
A week later, I was feeling different. In fact, a week later, I was itching to Venmo Dragos for half of our bill.
Venmo-ing someone would most likely break every piece of dating equitette I was ever taught, but at that point, I didn't really care.
I had his number, so finding him on the app would've been relatively easy. And I yearned for a satisfying ending to this date who, clearly, wasted my time.
All I wanted was a goddamn refund.
I never did take the plunge and request any money for the date. Though, the worst that would've happened was getting denied (a second time).
Instead, this experience taught me a valuable lesson that changed my future dating habits: NOT to pay the entire bill on a first date.
So, as a note to any future suitors out there (whether blessed to sit across from me or anyone else for the matter), if your night concludes, and you see absolutely no future with the person you're with, then just call it quits and SPLIT THE BILL.
Don't be a dragos. Hold up your financial end of this exchange with a stranger you'd never like to see again, and call it a night with an extremely awkward hug.