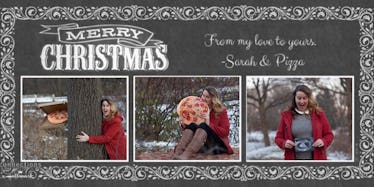 This Girl's Couples Holiday Card This Year Is With Her Loving Boyfriend, Pizza
Reddit/Reddituser_myredditfakename5
Ah, the American family Christmas card photo: a symbol of both growth and togetherness. Somehow, it's both nauseating and heartwarming. Both necessary and arbitrary. Cliché and traditional. A real Christmas tradition.
Maybe for your personal card, you get together with your parents every year to snap the annual photo on your front stoop, or you've had a recent addition to your immediate family, like a new pet or a baby.
The point of the card is to make sure you display to the world all the love you have in your life, but also just how damn adorable and creative you can be.
Well, our new hero on Reddit did just that.
Reddit user Sarah Collins (myredditfakename5) created a beautiful Christmas card, magnificently featuring her and her longtime lover, pizza.
The photos show how pizza can be a playful partner...
An affectionate partner...
...and how pizza is in it for the long haul.
Collins told Huffington Post, "I am single and most of my friends are married and have kids and give out cute Christmas cards each year. I wanted to show myself and my love this Christmas season."
Collins also took some time to list some of her favorite things about pizza.
She said, "I chose pizza because it's [sic] always answers my calls, comforts me when I need it, and gives my stomach a warm hug."
Preach, girl. PREACH.
She also anticipates this relationship will be long lasting, adding, "I foresee that Pizza and I will be together for a long time to come. Even if I find another love I believe that pizza and I will keep an open relationship."
If that's not a supportive partner, I don't know what is.
Reddit users also love the couple:
I agree, cpldave. I agree.
Sarah, you HAVE nailed life. I wish you and Pizza great happiness, health and love in the New Year.
Merry Christmas to all, and to all, a good bite! (GET IT?!)