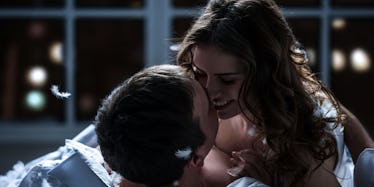 A Scientist Just Invented A Condom That Will Make Sex Feel Way Better
Shutterstock
I can't tell you how many friends I've been forced to coach through harrowing pregnancy scares. I've purchased the morning-after pill for more friends more times than I would ever care to count on all 10 of my manicured fingertips.
UGH, get it together, ladies. Get. It. Together.
Seriously, one of the only perks to being a lesbian is supposed to be that you never have to stand in the line of humiliation at the local pharmacy, trying not make eye contact with your former grammar school principal as you sneakily buy Plan B on a hungover Sunday morning. But no, I've done it endlessly because my straight friends can't seem to keep it in their pants.
Not only are they putting themselves risk for pregnancy (and trust me, girl, none of my besties are ready to bring innocent children into this world), they're also putting themselves at risk for a plethora of pesky STDs, some of which are incurable.
"WHY DO YOU DO THIS TO YOURSELF?" I find myself shouting every time I get a panicked call from a friend who had sex without a condom and is now asking me if I can pick up a pregnancy test on the way to brunch.
"BECAUSE CONDOMS SUCK," she'll scream back. Steam will come out of my ears, my nostrils will flare with irrepressible rage and my knuckles will go white as I clutch the steering wheel with full lesbian rage. Condoms save goddamn lives. What's wrong with these idiot friends of mine? Le sigh.
But alas, I'll buy them the pregnancy tests and the Plan B and even stacks of condoms because I have a heart of effing gold. (Or, I'm just a weak bitch with boundary issues, but who really knows?)
Well, luckily for me (and for all you sluts), I just found out about a brand new condom that apparently feels exactly like human skin.
The condom, designed by Shengxi Chen, a biochemist at Arizona State University, is made out of a material stronger than the latex used in regular condoms.
In the words of the genius himself,
I thought, if we make something really close to skin, people would not mind using condoms. Human skin has a lot of water; we call it hydrophilic. Most condoms are hydrophobic, but this material likes water.
Chen is currently trying to get funding for his new water-loving condom. (Can I say investor?)
Look, babes, I really hope this works out because I just want all of you sex kittens to stay healthy and only have kid creatures when you have your lives together. (I'm not there yet either, so I'm NOT shaming you.)
In the meantime, wrap it up and remember there is no morning-after pill for an STD, babes. I'll be sure to let you know as soon as this product hits the drug stores.
Citations: New condom is 'just like human skin' and offers sexier sex (Metro)