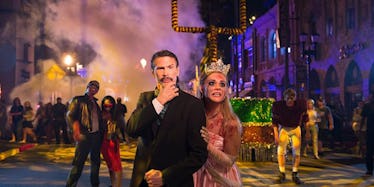 8 Celebrity Couples Costume Ideas That Are So Iconic, You'll Win Halloween This Year
Octavian Cantilli/Getty Images
With Halloween rapidly approaching, it is of the utmost importance that you explore all of your costume options ASAP. If you're planning on teaming up with your boo, then zeroing in on the best celebrity couples costumes is always a good route to go.
Not only do celebrity couple costumes come across super witty when executed well, but they're also tons of fun to put together. One of the most satisfying parts of Halloween is the looks on your friend's faces when you show up to the party in something awesome. Celebrity duos never fail to win over the people's hearts. How could they not? After all, we spend so much time either consciously or subconsciously absorbing intimate details of their lives and bringing them up in conversations as if they were one of our cousins. Whether you choose to pay homage to a throwback couple that is no longer together, or an "it" couple at the height of their fame, it's pretty hard to wrong. Plus, let's not pretend it's not totally fun to walk around the streets for a night channeling our favorite celeb couples like it's our job.
Ultimately, we can't guarantee that you will win every costume contest, but we can definitely give you some epic inspiration.
1. Kim And Kanye
One of my favorite things about Kim and Kanye is their commitment to everything decadent, regardless of the practicality. Whether it's Kanye's ridiculously unwearable clothing label, or Kim's truckload of plastic surgeries that she, to this day, vehemently denies, these two never fail to keep us laughing. I mean, remember that time Kim started crying while she was on vacation because she lost her earring, and Chloe pointed out that she needed to simmer down because she could obviously buy another one? But I digress.
The key to nailing this costume is all about Kim. If you don't have long black hair, then you're definitely gonna need a wig. This is where things get fun. Remember when you used to stuff your bra? Well, to make this celeb costume believable, you're going to need to stuff your bra and your underwear — to the max. (The bigger, the better.) If you don't mind spending a bit more money, butt and hip padding are also an option.
Then, you're gonna need to put on something scandalous, but Kim's many sensual looks make this a no-brainer. Kanye also has plenty of looks to choose from, but make sure you get some gold chains and something that says Jesus that you can artfully vandalize to say Yeezus.
2. Blake Shelton And Gwen Stefani
Although they definitely aren't a couple that anyone would have thought would get along — an assumption based mostly on preconceived notions about the seemingly unreconcilable difference between punk and country music — these two make an adorable yin and yang duo.
The key to making this costume particularly funny is choosing looks from their early days. So Gwen needs to serve up some serious No Doubt vibes with crazy hair, armbands, a studded belt, a bra top, and a tie. A platinum blonde wig is also a must. Blake Shelton could really use a black cowboy hat, cowboy boots, black jeans, and a denim button-down shirt. Extra brownie points if you can get your hands on a guitar.
3. Kylie Jenner And Travis Scott
Kylie Jenner's recent pregnancy announcement definitely sent the internet ablaze, especially when rumors spread about whether or not she is Kim's secret surrogate. Regardless, this definitely gives us some epic fodder for Halloween costume inspiration. The key to nailing this celebrity duo is going to be Scott's signature 10-year-old girl braids and Kylie's baby bump. For maximum brownie points, consider some butt and hip padding paired with a sexy bodycon. A long, dark wig and a ton of contouring should do the trick. Check out some of Scott's looks here.
4. Oprah Winfrey And Stedman Graham
These two cuties proved an entire generation of Peter Pan-ers that you actually can date your partner forever without ultimately tying the knot. And honestly, good for them. The fact that Stedman is so dedicated and comfortable being the obvious Robin to Oprah's Batman just makes us love them even more.
To be right on the money, Oprah will need a voluptuous wig — either her go-to curly or her throwback flip will do. If you're going for talk-show Oprah, then a mic and a two-piece outfit (with pencil skirt and blazer) is perfect. All Stedman needs is a suit, a salt and pepper wig, and a mustache.
5. Jennifer Lopez And Marc Anthony
Sadly, Jennifer Lopez and Marc Anthony are no longer together. This, however, doesn't mean we can totally pretend that they are for the sake of an epic costume. Marc needs some slim cut pants, a bright and shiny long-sleeved shirt, sunglasses, and if you're willing to go the extra mile, a wig. Jenny from the Block should definitely have a flashy dress, long brunette wig, and a head mic, because remember when head mics were a thing? Some glam bling for her and a thin chain for him are the perfect accessories.
6. Britney Spears And Justin Timberlake
Another couple that unfortunately didn't stand the test of time, Justin Timberlake and Britney Spears will probably go down in history as one of the most famous celebrity couples ever. This is why no couples celebrity costume list would be complete without them. Whichever look you choose is totally up to you, because the most important part of this costume for both Britney and Justin are the wigs. Britney needs a long blonde wig, and Justin needs a short blonde fro. Both of them could also use head mics because again, remember when those were a thing?
7. Barack And Michelle Obama
These two are straight up the inspiration behind all of our couple goals. Supportive of one another, accomplished, and oh so sassy, Barack and Michelle are the truest ride-or-die couple around. Barack will need a suit and Presidential-looking tie with salt and pepper hair. Michelle needs a tasteful black wig, a pearl necklace with earrings, and a well-fitting First Lady-esque cocktail dress.
8. Portia de Rossi And Ellen Degeneres
If you're anything like me, nothing get you feeling better than the thought of this adorable and inspiring celebrity couple. I'm sorry, but Ellen is soooo cute. Every time I see her adorable face, my heart is filled to the brim with joy. Portia's effortless elegance combined with Ellen's humor creates the perfect dynamic duo that will have everyone bowing down in reverence for your epic choice in Halloween costumes.
Ellen should definitely have a pixie-cut or short blond wig as does Portia — although do note that her hair is a bit longer and usually slicked back in a contemporary pompadour. Portia should also have plenty of elegant-looking costume jewelry and a gown. Ellen should either be in a two-piece suit, OR a pair of slim cut pants, oxfords, and a blazer.
Check out the entire Gen Why series and other videos on Facebook and the Bustle app across Apple TV, Roku, and Amazon Fire TV.