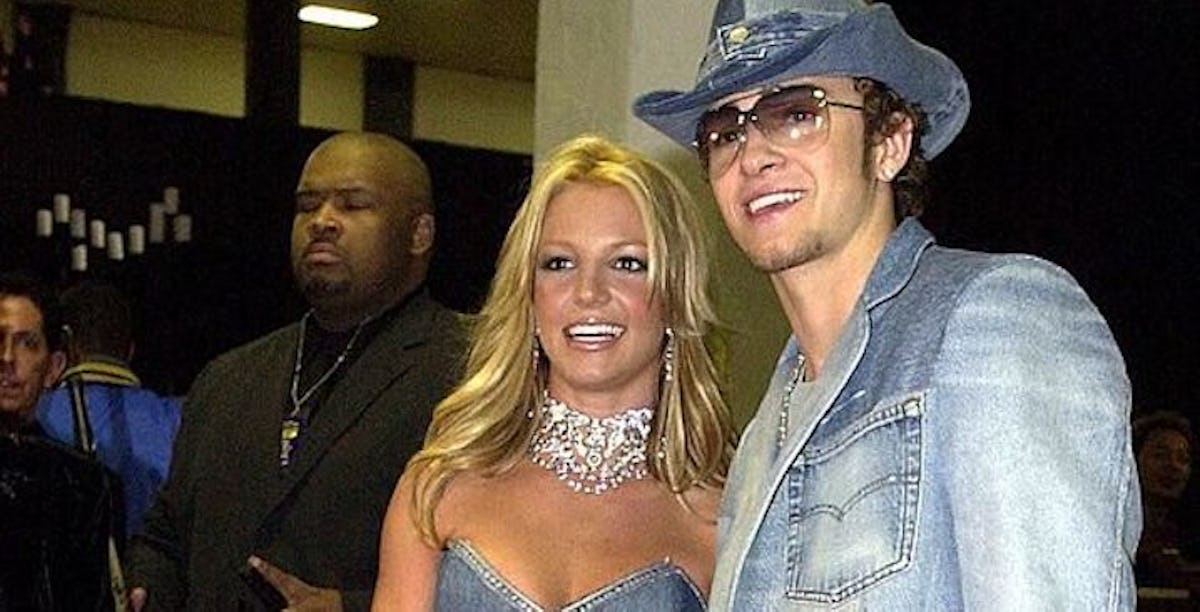 5 Famous Couple Halloween Costume Ideas So You & Your Partner Can Redefine Couple Goals
LUCY NICHOLSON/AFP/Getty Images
From Riff Raff and Katy Perry doing the most meta thing ever and dressing up as denim-clad Justin Timberlake and Britney Spears, to John Legend and Chrissy Teigen looking adorable as Super Mario and Princess Peach, there are tons of famous couples Halloween costume ideas floating out there. If you and your partner want to look amazing while also giving off all of those power couple vibes, then taking some lessons from the Carter-Knowles family or the Kardashian-Wests might help you be the biggest influencers at your Halloween party this year. And if not, well, at least you'll look good trying!
Already know you'll be stag this Halloween season? That's OK, I will be, too! Couples costumes don't have to be just a boyfriend-girlfriend thing. Grab a friend and ask them to dress up with you. You'll have fun bouncing off of one another and being performative at whatever social gathering you're attending. And if you are dressing up with your boyfriend, maybe even consider pushing these costumes one step further and switching up the gender roles! I, for one, would love to have seen Kanye West as Catwoman.
Without further ado, here are some costumes from celebrity couples past and present to get you hyped for Halloween this year:
1. Barbie And Ken, Inspired By Beyonce And JAY-Z
NawtyFox Turquoise Catsuit, $22, Amazon
MelodySusie Cosplay Blonde Wig, $13, Amazon
Costume Tuxedo, $21, Amazon
Men's Freddie Wig, $18, Amazon
The Carter-Knowles family are basically the reason for #couplegoals in the first place. Even if you and your partner don't have twins and each drop a huge tell-all album, you can still aspire to be them by replicating their costume game. Don't forget that instead of a tuxedo, Ken can switch it up with wearing just a pair of khaki shorts and a polo shirt. The key to this costume is keeping your arms at doll-like angles and a stiff smile on your face.
2. Bill And Hillary Clinton, Inspired By Katy Perry And Orlando Bloom
Hillary Clinton Deluxe Mask, $10, Amazon
Bill Clinton Mask, $10, Amazon
When Katy Perry and Orlando Bloom trotted out this couple's costume, it was well before the 2016 election. If you and your partner want to give the Clintons a more updated look, Hillary can wear a hiking outfit instead. Try sticking some twigs in your wig for that real outdoorsy look.
And if Bill wants a 2016 Democratic National Convention throwback, have him bring along some balloons to play with. Yes, the results of the election might make you want to die a little bit each day, but that doesn't mean you can't laugh!
3. Catwoman And Batman, Inspired By KimYe
Frisky Feline Catsuit, $31, Amazon
The Dark Knight Rises Costume, $35, Amazon
However you might feel about the Kardashian-West family, two things are certain: They know how to make an entrance, and their kids are really cute. I love how both Kim Kardashian doesn't have any apparent talent, and Catwoman doesn't have any superpowers. (OK, she's really good at gymnastics, and Kim is good at capitalism.)
Anyhoo, if you and your boo are looking for a couple's costume that is sleek, sexy, classic, and basically screams, "We don't care what you think about us because we own an empire," this is probably it.
4. Eevee And Pikachu, Inspired By Ariana Grande And Mac Miller
Costume One Piece Fox Pajama, $37, Amazon
Rubie's Pikachu Jumpsuit Costume, $39, Amazon
Last summer, everybody basically relived their 90s childhood with Pokémon Go — even people who weren't kids in the 90s. And while last summer might feel like it was forever ago, think about how much it revived our appreciation for Pikachu. Ariana Grande and Mac Miller had the right idea with this throwback costume that caters to our 90s nostalgia.
If $40 is too steep for you and your boo to spend on a costume, then slap on some facepaint, dress all in yellow and brown, cut some tails out of felt for yourself, and boom, you have a homemade costume that's just as good as your mom used to make.
5.  Chucky And Bride Of Chucky, Inspired By Tyga And Kylie Jenner
Chucky Costume, $35.93, Amazon
Smiffy's Bride of Chucky Costume, $43.30, Amazon
Evil Bride Wig, $13.45, Amazon
My friend dressed up as Chucky last year, and let me tell you: He looked really cute in those Chucky overalls. I have to admit that Tyga and Kylie Jenner looked pretty much adorable in this get-up, too.
Again, if $35 to $40 is too much to shell out for a whole costume, just buy an orange wig and take a trip to Goodwill. I guarantee you'll find a pair of overalls, a striped shirt, and a white dress somewhere in the bins.
Even if you and your honey aren't famous yet, there's no reason why you can't look to the stars for some inspirational famous couple Halloween costume ideas. Don't forget to practice your strut as you roll out the red carpet for this year's Halloween!
Check out the "Best of Elite Daily" stream in the Bustle App for more stories just like this!