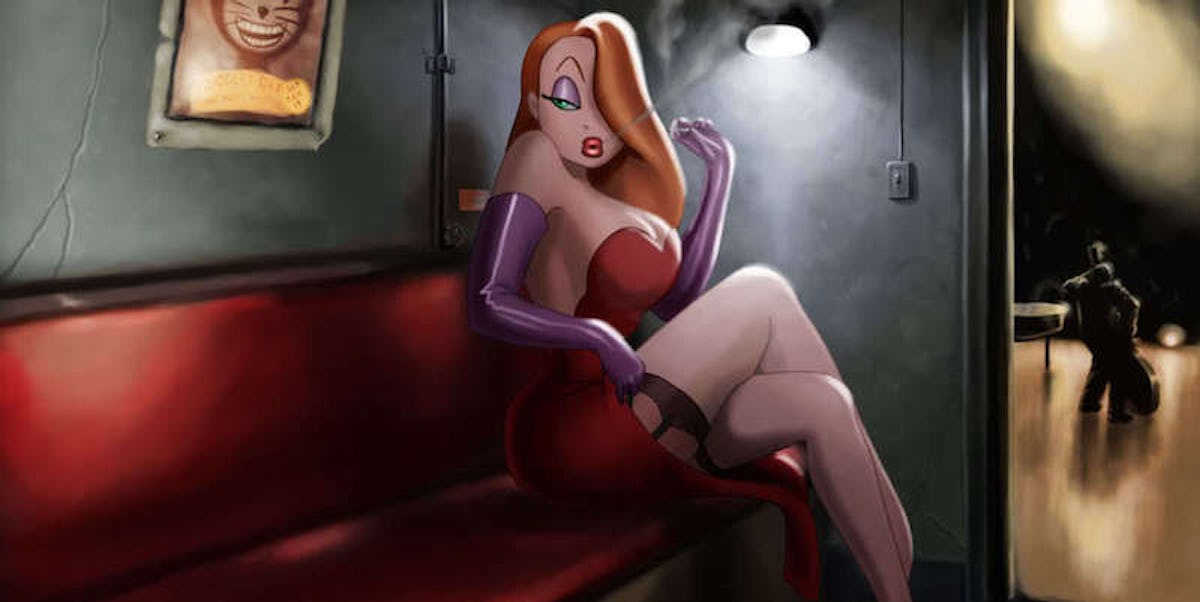 17 People Get Real About The Cartoon Characters They Crushed On
Buena Vista Pictures
During my adolescence, my biggest cartoon crush was, without a doubt, Storm from X-Men, the animated series.
She was a strong, stoic female character and arguably the the most powerful X-Men member regarding her mutant ability. She had long white hair (complete with unruly '80s volume), skin the colour of chocolate milk (my favourite childhood beverage) and wore dangerously high heels despite them being unreasonable attire for violent encounters.
Second to Storm on my podium of animated super heroines was the powerful Amazonian warrior, Wonder Woman. She, too, was the strong, silent type. And in some cases, she would also don inappropriate footwear for battle (This obviously was something I found attractive. Why? Not sure).
I actually owe my sexual awakening to Wonder Woman. Well, sort of -- I really owe it to The O.C., when Summer Roberts dressed up as Wonder Woman in the pool house and role played for Seth on Christmas. Holy shit, that was hot.
Ever since that wondrous moment on television, Rachel Bilson has remained my celebrity crush, despite not doing much with her acting career aside from a tween show on the CW that I've never seen (Rachel, you're my celebrity free pass -- call me).
But who are your cartoon character crushes? I asked on various forms of social media and received responses from all ages and walks of life. Here's what they said.
1. The Beast in "Beauty and the Beast"
I was truly in love with The Beast in "Beauty And The Beast." I felt bad for him. He was so young when he made the mistake of turning the old woman away. It seems cruel to place a curse on a young person for not being raised right. You could see he really tried to be a better, more open person throughout the story. There aren't many other Disney princes who had to overcome their character as much -- if not more than -- a villain.
-- Heather, 33
2. Twister from "Rocket Power"
My first cartoon crush was Twister from "Rocket Power." He was my soulmate and I used to fantasize about him being my boyfriend and Reggie would be jealous.
-- Danielle, 23
3. Kovu from "The Lion King 2"
Kovu from "The Lion King 2" because he was kind of a bad boy, but mostly misunderstood and really sweet.
-- Martha, 24
4. Catwoman
Definitely Catwoman -- a.k.a Selina Kyle.
-- Madison, 35
5. Top Cat from "Top Cat"
I was just talking about this crush. I loved Top Cat. If you listen to the lyrics from his cartoon theme song, you will know why. I just thought he was the coolest dude. I have not seen a cartoon of his in over 40 years but I remember he was in charge and everyone followed him. He wore a cool hat and a vest. I am a woman, but recently when I bought a black hat and a vest, that I am wearing today, I thought I would be so hip in the vest, just like Top Cat.
-- Patti, 54
6. Shaggy from "Scooby Doo"
I was just talking about this with a friend. Mine is Shaggy from "Scooby Doo." I was young and he was good with dogs. Aladdin caused my first sexual awakening though. Those. Pecs.
-- Christine, 26
7. Natasha Fatale from "The Rocky And Bullwinkle Show"
My first cartoon crush was a lady so alluring that I have met two other guys and a gal who had the same crush. It is the slinky Soviet spy Natasha, of "Moose and Squirrel" fame. Her tall, slender body with long black hair falling straight over her shoulders was, as Huey Lewis sang, "simply irresistible." My foremost fantasy was to hug her -- well, I was only five.
-- David, 65
8. Trent from "Daria"
Trent from "Daria." He was gorgeous, a musician, laid-back and completely oblivious. He was also really sweet to Daria, who was an insecure outsider.
-- Jodi, 30
9. Tuxedo Mask from "Sailor Moon"
Mine is Tuxedo Mask from "Sailor Moon." I had a crush on him because he was so mysterious and in almost every episode, he saves the day.
-- Jane, 25
10. He-Man
Without a doubt, it had to be He-Man. Aside from the sexy sword-wielding, blonde flowing locks and muscular build, He-Man was also Adam, the good-looking nice guy next door. But it just took one swipe of that sword and the words "I HAVE THE POWER," to instantly change him into the ultimate "bad boy" and the best mistake you ever made.
-- Sara, 36
11. Robin Hood from Disney's "Robin Hood"
My first cartoon crush was Robin Hood from Disney's "Robin Hood." In retrospect, here are some reasons why I think Robin Hood was my first crush: he was obviously very brave, super kind to little kids and extremely loyal to his friends, especially his main bud Little John. He had a streak of adventure in him and never underestimated Maid Marian (so jealz!) to join him in his escapades. He was also exceedingly generous and noble, not to mention a great advocate for the 99 percent. He was also, literally, a total fox.
-- Pavla, 32
12. Jessica Rabbit
Jessica Rabbit. Hands down, no question. I first discovered her when I discovered my penis could be used for more than peeing, so she was basically the cartoon epitome of perfection.
-- Jake, 27
13. Dimitri from "Anastasia"
Hands down, my first and only animated crush was Dimitri in the movie "Anastasia." OK, so maybe he had a sarcastic attitude and was kind of a con artist at the beginning, but in the end he did learn the importance of doing things for love, so I'll give him a pass on how he acted in the first half of the movie. Also, that hair. And the devil-may-care attitude. And being voiced by John Cusack. Hello, grown woman over here still swooning over this guy.
--Heather, 28
14. Barney Rubble from "The Flintstones"
I had the biggest crush on Barney Rubble from "The Flintstones." My sister and I used to debate Fred versus Barney. Barney is better than Fred because 1) Barney doesn't need to wear a scraggly tie like Fred in order to look cool. This also makes him more laid-back and therefore, cooler. 2) Betty is quite a bit taller than Barney and Barney doesn't mind at all. That's because Barney is secure in who he is as a man. 3) Barney's son, Bamm-Bamm, at six months old is already stronger than his father. Barney thinks this is charming. That's because Barney can appreciate other people's talents without putting them down. 4) Barney puts up with Fred's bullshit. That's because Barney is a good neighbor and as a result, is way sexier than Fred.
-- Erica, 40
15. Peter Pan
My cartoon crush was Peter Pan. He was an adventure seeker, a troublemaker and a leader. Not to mention, he was adorable in the green outfit and the Lost Boys looked up to him. He also totally admired Wendy and rescued her from Captain Hook, so how can you not love a guy who's saving an innocent girl from a dirty pirate?
-- Kelly, 26
16. Raphael from "Teenage Mutant Ninja Turtles"
My first cartoon crush was Raphael from Teenage Mutant Ninja Turtles -- he had a sassy attitude and his name started with "R", just like mine (a key factor of my preschool attraction). It also didn't hurt that he had a turtle six-pack.
-- Rachel, 28
17. Seto Kaiba from "Yu-Gi-OH!"
Seto Kaiba from "Yu-Gi-Oh!" That hair, that coat, what more do I need to say?
-- Kelly, 25