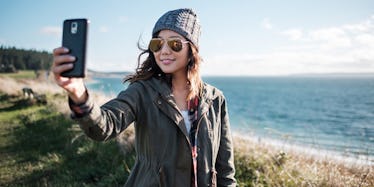 Bumble's New Feature Lets You Add Video To Your Profile And It's A Game-Changer
Bumble's taking a page out of Snapchat's and Instagram's books with their launch of BumbleVID, where users can post their own "stories" to their Bumble accounts.
They describe the new swaggy feature in a post on their Facebook page:
We've changed the rules of the dating game for two years. Now we're changing the experience of using dating apps. We're excited to announce our upcoming feature, BumbleVID, where you will be able to upload 10-second videos to your Bumble account and bring your profile to life!
I was never really big on dating apps because I felt like I could never really get enough info about someone based on a few pictures. Not to mention the fact that I genuinely think straight boys suck at choosing "good" pictures of themselves.
Like, how am I supposed to know literally anything about you based on this awkward picture of you standing outside by yourself that your mom probably took four years ago!?
Or, here's a tip: If all your pictures are of yourself lost in a sea of dudes, I'm going to assume you're the ugliest one.
You get the picture. (No pun intended... OK, fine, pun totally intended.) The whole swiping based on pictures and some weird, awkward bio alone just never really did it for me.
But this new feature eliminates that problem completely.
Now, I can see potential matches actually DOING things and living life in their natural element.
I can also give them a little more to judge me on than some random pictures of me standing outside a party with my friends in college.
And that's pretty freaking cool, if you ask me.
So how do use this new feature? It's simple. I mean, odds are, you've already been doing it on your other social media platforms for years now.
TechCrunch explains, "Users record 10-second videos from directly within Bumble. These videos then post to their profile, and can be viewed by anyone who comes across their profile while swiping."
Feeling a lil' shy? Don't worry. Bumble told Mashable that users will get the option to either share their videos publicly or reserve them for only their pre-approved matches to see. You can also always block or report users who  make you uncomfortable.
You can draw on the videos as well, and they promise that fun features like filters and geotags are to come.
You can load pre-recorded videos, but Bumble will warn users that the video was not recorded live. As you can imagine, this is going to make it, like, WAY harder to catfish.
So... sorry if you were planning on doing that?
Citations: Bumble is launching video stories to show more of your match (TechCrunch), Dating App Bumble Has A New, Snapchat-esque Video Feature (The Huffington Post)