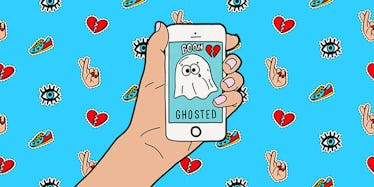 This Girl Was Ghosted By A Single Dad Right After He Was Robbed
Kylah Benes-Trapp
This week we have Sheila*. She was ghosted by a single dad she met on Tinder who had just agreed to be exclusive with her. Then, he was robbed...:
I met this guy on Tinder back in June. I know the stigma that comes with dating apps/sites, so I was really apprehensive to even use this app. But my dating/social life has been pretty much nonexistent for the past three years, so I thought I'd give it a try. We both matched and started messaging each other via the app. After messaging for a little more than a week, I decided to go ahead and give him my number. He was a divorced, single guy three years older than me with a 5-year-old son. After communicating with each other for about two weeks, he suggested we meet up. We live 60 miles from each other, and since he lives in a bigger city, I agreed to meet him at a bar in the city he lived in. That night, we hit it off well. We had a lot of the same interests and conversation was good. He was cute, charming and funny. We continued to text and talk and started spending more time with each other: dinner/movie dates, hanging out watching basketball games, even hanging out with some of his friends. I felt we had great chemistry, and pretty early on, he started asking what our status was. I was a little taken aback because I'm usually the one who gets attached quickly, so it felt good to have that interest from him. We agreed that we would only date each other and see where things went. During this time, I informed him that if there were any issues on his side or my side, we would communicate with each other and be straight up; no lies, no games. One weekend in late August, we spent the entire weekend together and had a great time hanging out with some friends of his who had come in from out of town. That week, I didn't hear much from him, which wasn't unusual seeing as he had just gone back to work the week before and it was his son's first week of kindergarten. So I cut him some slack. I invited him out that Saturday night, as we were getting together for my brother's birthday and we were going to be in the area. He had his son that weekend, so no big deal when he couldn't join us. The last time I heard from him was on that next Tuesday. He informed me that someone had stolen off his family's property and he had been busy, but said that we would talk. [caption id="attachment_1685296" align="aligncenter" width="400"]Anonymous[/caption] I never heard from him again. I texted him a few times after that, just to let it be known that this sucked and I never thought he'd ghost me. [caption id="attachment_1685299" align="aligncenter" width="400"]Anonymous[/caption] [caption id="attachment_1685304" align="aligncenter" width="400"]Anonymous[/caption] [caption id="attachment_1685309" align="aligncenter" width="400"]Anonymous[/caption] I never saw any indication that he was a player, a jerk or a liar. To this day, I still haven't heard from him. And I have no idea why.
So, what do you guys make of all of this?
What I really can't understand is why he would bother telling her he agrees they need to talk if he had no intention of following through on it.
Clearly he was already checked out to a certain extent if she felt the need to reach out to him and ask what the deal was, but if you know you're going to ghost her anyways, why bother responding?
ALSO, WHY BOTHER MAKING THINGS EXCLUSIVE WITH HER?
As far as I'm concerned, when you go so far as to make it exclusive with someone, there's a certain level of respect you owe them.
They're not someone you're just casually seeing anymore. They matter. You owe them at least a conversation when you're ready to peace out of the relationship.
Also, being robbed is NOT an excuse to just stop speaking to them anymore.
Do any of you see where he was coming from? If so, help a sister out!
Have any of you been on the receiving end of a ghosting like this? If so, I want to hear from you, too.
As always, if you have your own submission for "Boom, Ghosted," please feel free to send it over to me at boomghosted@elitedaily.com.
*Name has been changed.