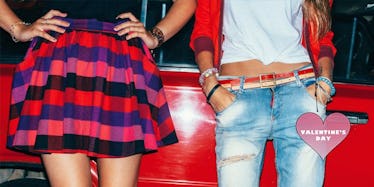 A Step-By-Step Guide To Having The Best Singles Night Out On Valentine's Day
Viktor Solomin
I've said it before, and I'll say it again, baby! There is NO BETTER night to go out on the town and strut your stuff than on Valentine's Day.
Valentine's Day is particularly fierce if you're single. And honestly, being in a relationship on Valentine's Day is boring!
I mean, how many tired, candlelit dinners can you endure before you lose your goddamn mind?!
When you're single, you can have a really fabulous, ratchet night out on good ol' V-Day. And I'm all about fabulous, ratchet nights out on the town, especially when chocolate and booze are involved.
So here is my official schedule for the best singles night out this Valentine's Day, by the hour, baby.
4 pm: Get a Skin Laundry laser facial.
I'm not kidding when I say Skin Laundry facials have changed my life. They're these amazing laser and light facials that only take about 10 minutes and leave you literally glowing like you've just had a date with Ruby Rose.
It sort of hurts, but in a good way (where you know that it's actually working).
Oh, and your first appointment is FREE. So what the hell do you have to lose? Shrink those mountain-sized pores, hunty!
I always get a Skin Laundry facial when I know it's going to be a big night out, because not only does it make me look prettier, like, instantly, but I feel like it undoes some of the damage to my skin that a night of drinking, dehydration and cigarette smoke will do.
5 pm: Get a blowout from Drybar.
If I know it's going to be an exciting night out, which a single's Valentine's Day night will SURELY be, I make sure to get my hair blown out.
Nothing makes you feel more chic than sitting in a leather salon chair, clutching a glass of Champagne as massive, bright yellow blow dryers and round brushes fly around your head.
And there is no place that gives better "head," so to speak, than the original blow-dry bar Drybar.
They have locations across the country, they get you boozed up for free and they offer different hairstyles named after alcoholic beverages, like the "Southern Comfort" and the "Cosmopolitan."
If you're going for a sexy night out, ask for the "Mai Tai." You'll see why...
6 pm: Get a manicure with Valentine's Day-inspired nail art with your crew.
You can't go out with dirty nails — it's like going out with dirty underwear.
And you might be single, honey, but that doesn't mean you can't rock a really fierce, V-Day mani, OK?
Get all of your girlfriends and (boy friends) together, and get some freaking art on those vile nails.
Valley Nails is my favorite nail salon in New York, and I love Wah Nails in London, but every city boasts at least one fantastic nail artist. Find her on Instagram.
Your girl Alexia can get this one:
Your BFF Theresa can get this one:
Kelli, your fave party girl, can get this one:
And your gay husband Sean (because boys get manis, too) can get this one:
And you can get this goth one:
7:30 pm: Have an "at home" drink.
After you all have your fierce, new manis, it's time to drink some wine at the homestead.
Right now, I'm really into Rebel Coast Winery because they have fun names, like "Reckless Love." (And they even have some wines that are marijuana-infused — talk dirty to me!)
Remember, you are what you drink. Want to have reckless affairs like Angelina Jolie when she took on lovers before she got boring and met Brad? Drink "Reckless Love."
8:30 pm: Go somewhere super fancy for dinner and get super rowdy.
Now that you've consumed a "personality drink" with your peers, go for a bougie dinner full of boring couples. Show off how much more fun you're having with your wild, glittery group of friends than a stale couple in a failing marriage ever could.
If you're in Manhattan, I suggest going to The Waverly Inn.
If you're in L.A., I suggest the legendary Ivy restaurant (on Robertson Blvd).
If you're in London, I suggest Beach Blanket Babylon. (It's what the English call "over the top," but I like to call it "fucking fab!")
10:30 pm: Go to a gay bar!
Don't mess around at boring, straight bars this V-Day. If you really want to have fun on singles night, go to a gay bar. Plus, a Valentine's Day-themed drag show is the most incredible thing in the entire world.
4 am: Take a Lyft home and drunkenly stare out the window at your gorgeous city.
Treat yourself to some CAR SERVICE, HONEY! It will make you feel glam, I swear. Stare at the gorgeous city where you live, and think about how lucky you are to be going home alone.
PSA: Don't take Uber. They're Trump supporters.
Once you're home, MASTURBATE.
You don't get to masturbate on Valentine's Day when you're in a relationship, and that's a damn shame. Because a body can't vibrate, and nothing will make you COME like ~vibrations~. Personally, I like the Hitachi Magic Wand best.