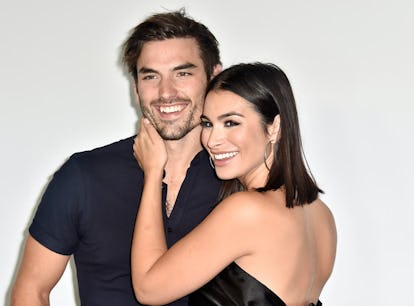 Ashley I. And Jared Are Having A Baby! Her Baby Name Idea Is ~Fun~
Their announcement was so sweet.
FRAZER HARRISON/GETTY IMAGES ENTERTAINMENT/GETTY IMAGES
Some exciting news for Bachelor Nation! Ashley Iaconetti and Jared Haibon are expecting their first baby. The fan-favorite couple made the announcement during an Amazon Live video on July 15. "I'm pregnant!" Iaconetti shared before giving her husband a quick kiss. Although the duo won't be on the beach for Bachelor in Paradise this summer, it sounds like they're living out their own version of paradise (or they will be as soon as the morning sickness ends).
Iaconetti and Haibon have been open about their family plans for years, which isn't too surprising considering the couple got their start on reality TV. Back in February 2019, Iaconetti told Us Weekly, "We want to have kids in 2020 or 2021." So this pregnancy announcement is *almost* right on schedule.
In fact, according to an IG post from May 2021, they are only about a month behind what Iaconetti had in mind. She wrote at the time, "We've been trying to conceive for 6 months/cycles now. A couple months ago, I was saying I would start feeling worried if I wasn't pregnant by June. This month was annoying, because I ovulated five days earlier than expected and we pretty much missed my fertile window," she wrote. "So, there's a slim chance I'll find myself pregnant come June."
Luckily, Iaconetti's doctor soothed the couple's worries about getting pregnant. "I would have been nervous about my fertility if I hadn't gone to my OB/GYN a couple weeks ago," Iaconetti continued. "She assured me that not being pregnant after 6 months of trying is totally normal and she's not concerned at all. She said it takes most of her patients at least 6 months to conceive."
Although the Paradise alums might have had the same timeline in mind for their growing family, they're not on the same page about everything just yet — baby names, for one, are still partially up in the air. "We're not telling a future boy's name because we're set on it, and I have been set on it for over 10 years," Ashley captioned an IG post, per E! News. "I don't want anyone to steal it/I don't want it to become popular! (As if I have the power to do that). I like Arena for a girl because the fan girl [sic] in me gets high off the energy in an arena. Jared's not sold on it." TBH, I'm with Haibon on this one.
That being said, in 2019, the couple told Us they're hoping for "two or three" kids total, so there will still be opportunities for other fangirl-themed names. (And plenty of time to brainstorm some other options — though I'd recommend steering clear of venue names in general.)