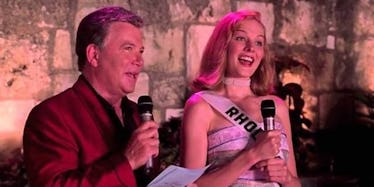 In Honor Of Cheryl's 'Perfect Date,' Here Are 6 Perfect Dates We'd Love To Go On
Warner Bros. Pictures
If you haven't seen "Miss Congeniality," please sashay away. Halt whatever you are doing at this very moment and sprint to your nearest Best Buy immediately.
Today is April 25th, ladies and gentlemen.
Yes, that April 25th: The infamous day in which Cheryl Frasier took the stage at the 75th annual Miss United States preliminaries, eager to impress all of America with her words, only to painfully misinterpret one of the questions.
Caught up in the rush of pageantry glitz and glam, quirky Cheryl took co-host Stan Field's inquiry a bit too literally when asked to describe her perfect date.
"That's a tough one," she giggles innocently before composing what she believes to a flawless response.
"I'd have to say April 25th," Cheryl says, "because it's not too hot and not too cold. All you need is a light jacket!"
*crickets*
Oh, Cheryl. Poor, poor Cheryl. Though your brain may have slowly escaped through your ears, not only did you still manage to earn yourself the coveted crown, you managed to gift us with this iconic seasonal holiday that's, well... perfect.
It's hard not to relish in the not too hot, not too cold days of spring when all you need is a light jacket.
And in honor of Cheryl's on stage word vomit, a few Elite Daily staffers have summarized their idea of an actual perfect date:
We go out for dinner at a delicious restaurant — his choice. (My ideal date would have good taste that I'd trust.) The prominent color in the restaurant is a deep, wine red, and there's wooden trim on the ceiling. The lighting is flatteringly dim. We order a round of whiskey-based cocktails and a dozen oysters because I find those two foods romantic. There is minimal, if any, small talk. (I hate small talk.) We find each other brilliant and hilarious. We laugh non-stop and discuss big ideas about life and love, then head to a dingy dive bar (or three) because we don't want the night to end. Yes, this is a very cliché perfect date. I am fine with that.
- Alexia, Senior Editor
My perfect date would be with Taylor Kitsch—who played Tim Riggins on "Friday Night Lights"—but he'd actually be Tim Riggins, because SWOON. For whatever reason, I imagine this taking place in a field filled with yellow flowers. But that's not really important, because all I'm looking at is my boo, Tim Riggins.
He's obviously shirtless and his abs are hypnotizing. And as the sun rises overhead, puppies pour into the field out of seemingly nowhere. Like the fluffiest, cutest, most cuddly puppies ever. Just bounding towards me and leaping into my arms. And then my lover, Tim Riggins (Is it weird to be this into a fictional character? No? OK, good.) is all like "Texas forever!" and I die because life is too freakin' perfect and nothing will ever be this good ever again.
- Lindsey, Social Media Editor
I love seeing Broadway musicals, so it's always a special treat to get tickets to a new or favorite show and then plan a late night dinner or drinks after to talk about the show.
It's the quintessential New York night.
- Wesley, Head Of Partnerships & Distribution
My idea of a perfect date would be spent in seclusion with none other than Hollywood A-lister, Chris Evans. I'd be sprawled out on a towel as he approaches in his full "Captain America" garb in a slo-mo "Baywatch" style jog. Once he sets his towel down next to mine, he would offer (because, you know, gentleman) to lather me up in SPF 75 because he's concerned about my pale complexion's exposure to direct sunlight (again, gentleman).
We'd spend the day talking about his Boston upbringing, his future as an Avenger under Marvel Studios and why he doesn't do more nude scenes. Then, as the night winded down, we'd throw back a chilled glass of Patrón before making sweet, sweet love under the cloak of stars and moonlight. It's at the moment of climax that I realize I'm actually drooling in a Chipotle, holding up the line as I ponder whether I splurge on extra guac. And splurge, I do.
- Sean, Sex & Dating Editor
My perfect date would be for someone to take me to an art museum. We'd sit in front of a Georgia O'Keefe exhibit and chuckle because we're essentially two 12-year-olds sitting amongst vagina flowers. They'd ask if I knew anything about art. I'd tell them I know a bit, but not much, even though I know more than a bit. I'd listen as they boasted that they know a lot about art, and I'd find all the misinformation they'd feed me strangely endearing.
At the end of the date, I'd politely ask them to wire me $5 million. They'd oblige. I'd then tell them it's time for them to leave. They'd also oblige. I'd collect the $5 million, and they'd never contact me again. Then, I'd go on to live in perfect solitude, sipping Malbec on the porch of a seaside villa and using a $100 bill to wipe my tears.
- Theresa, Sex & Dating Editor
My perfect date is May 13 and preferably a Friday. I'm in constant search for an evening that pays tribute to how terrible of a human I am, and I'd love for my date to join in. It would involve a lot of food and probably lying to strangers. I hate plans, planning and prescribed fun, so I'd like to gallivant in the city, flitting from bar to bar when the wind picks up and I grow bored. Ideally, at the end of the date, I would change his life, pay for everything and ghost him forever.
- Kaitlyn, Editor At Large
If Miss Rhode Island can achieve perfect date greatness, you can too.
Happy April 25th, everyone!