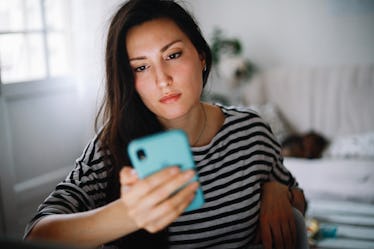 8 Texts You Can Send Your Ex After A Breakup If You Wanna Check In
If you're comfortable sending your ex a text, then here's what to say.
lechatnoir/E+/Getty Images
Breaking up is hard to do, especially if you still care about your ex. But not every breakup needs to be a bad one. Even if you're the one ending the relationship, it's normal to have residual feelings for your ex, especially if you were together for a long time. If you're wondering how they're holding up — whether you were on the giving or receiving end of the breakup — sometimes it's OK to reach out and check in. But how do you know what to say after a breakup? The best after breakup text messages tend to convey empathy without pity, care without romantic love, and concern without hovering.
Of course, it's super important to put yourself in your ex's shoes and think about how you would feel if they reached out to you. As Break Up Bestie founder Kendra Allen tells Elite Daily, it may be better not to text your ex at all, because "regardless of what side of the break up you were on, you either owe yourself space or owe the other person space."
Relationship coach and podcast host Trina Leckie agrees, saying that "the sooner you go no contact, the sooner you can both start to heal and move forward." However, she adds, "If you need a couple things cleared up or if you need your things, sure, text the next day."
So, if you feel the need to talk to your ex, you might as well do it right away. The problem is coming up with the right things to say after a breakup. To help you get started, here are some post-breakup text messages to send your ex, depending on your situation.
Breakups are never one-size-fits-all sort of deals. Every situation is different, just like every relationship is different. Whatever you decide to do, take the entirety of your relationship into account. Was it great? Was it horrible? Did you fight all the time? Did you see the breakup coming? Do you think the two of you are better separate than you are together? These are all things to think about, but the main thing to keep in mind is your ex and what exactly reaching out to them would do for the both of you.
Even if it would make you feel better, don't reach out if you know it would make your ex feel like you're ripping their heart out of their chest or if they've expressed that they don't want to talk to you. Breakups are emotionally exhausting, so take it one day at a time, and keep in mind that the first day is always the hardest. It will get better, I promise.
Experts:
Kendra Allen, founder of Break Up Bestie
Trina Leckie, relationship coach and podcast host
Editor's Note: This story has been updated by Elite Daily Staff.
This article was originally published on