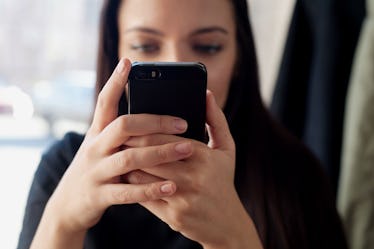 Here's Why Experts Say You Shouldn't Text Your Ex After "No Contact" Ends
When I break up with someone, I have to cut off all communication — for a while at least, if not forever. My heart just can't take even casual contact with an ex until its had time to really heal. I don't want to see them move on, or what their life is like post-me, and I don't want to risk having my feelings for them linger and make the breakup take even longer to heal from. But what about after some time has passed? Should you text your ex after "no contact" ends, or is it better to just put the past behind you?
There is no easy answer to that question, so I reached out to the experts to ask them to weigh in on when and if you should reach out to an ex after a period of no contact ends. There was one thing that they all agreed on: The answer to whether or not you should text your ex and reopen communication with them depends on why you imposed the no contact to begin with. Was it because you both needed time to get your heads and hearts right and create boundaries? Or was it about protecting yourself from a toxic partner? If you're considering reaching out to an ex and you're not sure what to do, here's what the experts suggest.