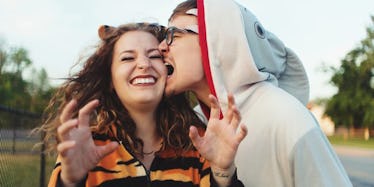 8 Dirty Couples Costume Ideas If You And Your Partner Are Supa Freaks
Chelsea Victoria/Stocksy
Forget Valentine's Day, forget Christmas... hell, forget your anniversary. The best day, hands down, to be coupled up is on Halloween. Why? Because couples' costumes, of course. Everyone loves getting dressed up — or undressed as the case may be — and it's even more fun when you have a partner-in-costume-crime. If you really wanna let your freak flag fly this year, there are plenty of dirty couples costume ideas out there — just Google it and you will find a veritable sea of sexy cats, pirates, and... Sesame Street characters? Yes, that's really a thing, because, reasons?
But who wants to be a cliché? I mean, if you've seen one Joker/Harley Quinn, you've seen them all. Whether you're headed to a house party or hitting the club you want a costume that is going to stand out in a crowd. Creativity and humor will go a long way to assuring you and your partner make the best dressed list. And sex appeal; that's essential.
Fortunately, I'm here to comb the internet for all the sexy, strange, and hilarious costumes out there to help inspire your Samhain attire this year — so that your Halloween insta feed is #couplecostumegoals. Without further ado, let's get weird.
1. Sexy Pokemon
When it comes to sexy halloween costumes, my personal motto is: When in doubt, add hot pants. Yes, even the adorably innocent Pokemon can go from playground to bedroom with just some good old Daisy Dukes. Pikachu has never been so shocking... or hot.
2. Naughty Emojis
Your relationship probably started with a few of these emojis, so putting them on your body and going out in public was basically inevitable. These peach and eggplant costumes definitely fall under more suggestive than straight up freaky, but don't worry, we still see you.
3. Breast Friends
Is everyone always telling you you're the perfect pair? Now's the time to embrace it and be one. This costume takes the free the nipple campaign to a whole new level. Rent your rack or even buy a forever duo because who knows when the dress code will call for cute, cheeky, and not too X-rated? Speaking of which...
4. P And V Hats
Well, that escalated quickly. For those who want their costume to be 90 percent conservative and 10 percent holy-sh*t-you-freaky, I present you with the penis and vagina masks. No matter what you're wearing on the rest your body, you won't have to remind anyone that your eyes are "up here, buddy."
5. Arabian Nights: After Dark Edition
We all loved Aladdin when we were kids. Who didn't want to be Jasmine for just the pet tiger alone? This costume definitely isn't Disney approved — think of it as Aladdin for grown folks. For some people, these magic lamp and genie costumes may rub them the wrong way, everyone else will wish they thought of it first (sorry).
6. Dinosaur Erotica
Yes, dino erotica is a thing that exists. This costume is inspired by the landmark tale, Taken by the T-Rex. To complete this look you just need a giant inflatable T-Rex, a gold bikini top and some jeans. At the very least there won't be anyone at the party in the same costume, and if there's a contest at that party, puh-leeze — this is a guaranteed winner.
7. BDSM
It's not Halloween without a few witches, vampires, and ghosts, right? That's because classics never go out of style. The supa freak equivalent is, of course, the gimp and dominatrix costume. It's sexy, it's bold, and — who knows — maybe you'll even find out you really like it. Bonus: If bae gets out of line, you'll be well equipped to put them back in their place.
8. Jon And Dany
If you don't know why this combo made this list, you're clearly reading this from under a rock. This costume is mainstream enough that most people won't bat an eye, but, deep down, we all know if you're wearing Jon Snow and Daenerys Targaryen as a couple, you real freaky. Maybe even a little too freaky.
Feeling inspired? Now it's your turn to tell us what sexy couples costume you plan on wearing this Halloween in the comments. Stay spooky (and sexy), my friends.