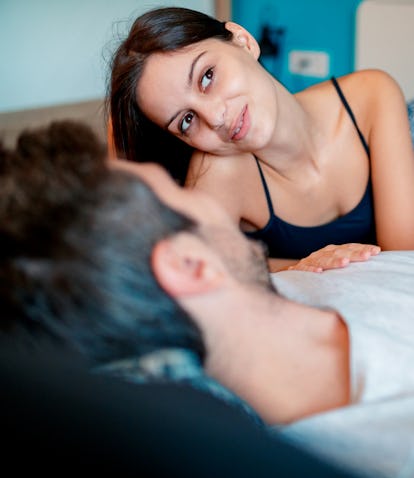 7 Sex Resolutions Worth Making This Summer
There's never been a better time to recharge your sex life.
zoranm/E+/Getty Images
Social distancing may have put a kink in your bedroom routine for the last year, but now that more Americans are "vaxxed, waxed, and ready to go," it's safe to get busy.
FaceTime dates are turning into good old-fashioned face time. Post-pandemic travel is on the table. Festival season is back with a bang. Whether you're in a relationship or single, hot date nights and hookups are finally on the horizon.
Thanks to declining COVID infection rates and increasing vaccination numbers across the country, it feels like we're able to breathe a (small) sigh of relief this summer. Finally — a chance to exhale all that nervous energy we've been holding on to.
But before you put your self-pleasure practice to work with a partner, don't forget to keep your personal satisfaction in mind. No matter if you spent the last year isolating solo, with a significant other, or kept your FWB in your close circle, this summer is the perfect time to refresh your bedroom routine while keeping your own wants, desires, and safety top of mind.
Feeling good (and having fun while you do it) is the key to celebrating your sexuality. Read on for some expert-approved sex resolutions that will empower you to do your thing safely … and have some fun along the way.