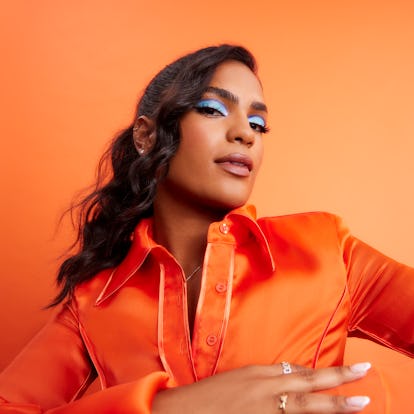 Monet McMichael Is Here For The Girlies
TikTok's GRWM queen has come a long way in the last two years.
Photographs by Ruo Bing Li
There's a certain soothing, ambien-like effect of watching a perfectly executed GRWM video, and Monet McMichael is the queen of them. On the 23-year-old's TikTok, no topic is off limits — from documenting her at-home waxing journey ("I cannot wait to show my mom!" she says, showing the wax strip to camera) to sharing updates on her dating life in real-time ("If you're coming into my life, you need to be an addition — because I'm whole," she says). On an app where shock value or hot takes tend to garner the most views, McMichael's videos documenting her hair and makeup routine and daily life feel like a hug for the brain — which might explain why she gets millions of views every time she posts. How can someone not get a dopamine boost watching her pregame before a Beyoncé concert with her mom or share in her excitement over traveling to Paris with Make Up For Ever for the first time? She parties and goes out, but she also stays in and keeps her friendship circle small ("It's never about quantity for me," she says). She's a certified TikTok it girl, with a deep love for her family and infectious energy that's felt through the phone screen — whether she's doing something as mundane as organizing her beauty drawer or flying first-class to Puglia on an influencer trip with Nars.
But before the international trips and brand deals, McMichael was just a Rutgers student posting TikToks for herself and her friends — and before that, she was a 12-year-old girl in South Jersey making YouTube videos in her room with her mom's digital camera. "The SD card only went up to 10 minutes, so that's all I had: one shot," she laughs. "They were all 10 minutes long, just straight off the brain. There was no editing."
At the beginning, I definitely was just posting literally everywhere all the time, and now, I'm enjoying being more present.
We've just finished shooting her portrait for Elite Daily's Class of Gen Z issue and McMichael's changed out of a tangerine-orange dress into a cozy-looking gray sweatsuit. Her sneakers are from Storm Reid's new collaboration with New Balance (later, she mentions with a sense of wonder that the actor recently followed her on Instagram). Looking back to how she got started in content creation, she says it all began with some good old-fashioned friend drama. "I was definitely the oddball out and left out of my quote-unquote 'friend groups,'' she reflects. "I had a lot of trauma there." McMichael found solace on YouTube, devouring videos from the likes of Bethany Mota and Raye Boyce of Its My Raye Raye — the latter of whom she met recently in person. "It's crazy we're mutuals now," she says. As one of the few Black students at her middle and high schools, YouTube was the one place where she was able to see and be inspired by other people who looked like her. "Having that online connection where I'm like, period — she's doing her thing, big sister," she says of watching Boyce. "It's so cool that I have somewhat grown into that role."
A recent 2022 study found that 1 in 4 Gen Zers want to be influencers — but for McMichael, this life happened completely by chance. "I was just posting for my friends and I loved editing with my friends," she says. "We would go out to the beach or the club and I would make a slow-mo video — one of those blew up and it was super exciting because I love music, I love the visuals, I love the vibes." There was one particular video she posted in January 2021 that started gaining attention, but something made her pause. A quick scroll through the comments revealed a mostly male audience — and McMichael wasn't down. "I was like, 'These aren't my people, but I know they're out there,'" she says. "So then I leaned into [posting] more of my hair [routine] and I would talk about beauty things and lip-sync to a song, just to try to find my girls low key."
And soon, the girlies came. A video of McMichael using micellar water to create a makeshift colored eyeliner got more than a million views and immediately after, her TikTok following exploded before her eyes. "I couldn't open that app for a few days," she says. "It was just a lot of comments, lots of followers. It was like 10,000-plus for followers, and I was like, 'What the heck?' And then it was like,10,000 comments."
Her first brand deal came via Priyanka Chopra's hair care brand, Anomaly in February 2021 — and she almost missed the DM. Two days later, she saw the message and immediately went to her mom. "I was like, 'Mom, what is this?" she recalls. "They're asking my rates. What do I do? What do I say?' I'll never forget it."
McMichael talks about her mom often, and each time she does, her face lights up. She refers to her as her best friend (she often features as a guest star in her TikToks), and it's clear she has a deep emotional connection to her. At one point in our interview, she starts tearing up. I've asked her the biggest lesson she's learned from her mom, and without a beat, she says it's her work ethic. "I just look up to her so much. She would be working weekends and have two jobs just to get me an iPhone for Christmas," she remembers. "It makes me want to cry." Her eyes well up. "Oh my God. I'm fully going to cry right now." She fans her face to try to keep the tears from spilling over.
She takes a deep breath. "I just love her, and she actually just recently left her job of 20 years because I told her to," she says. "I was like, 'Dude, you don't gotta work no more.' It's just crazy — giving her life back basically."
Two years ago, McMichael was a nursing student and didn't own a passport. A short time later, she's traveled to Paris, Puglia, and Dubai with world-renowned beauty brands, earned enough money through brand deals to give her mom financial freedom, and moved into a brand-new big-girl home in North Jersey — taking her 3.6 million followers along every step of the way. But though she gained her following through posting every single detail of her life, lately, she's been wanting to take a step back to take it all in. "I think at the beginning, I definitely was just posting literally everywhere all the time, and now, I'm enjoying being more present," she says. "Especially with new relationships in my life, I want to just enjoy them because life goes by so fast. I feel like I worry so much about capturing the moments, but feeling them is just as important."
Some influencers are shy or surprisingly different from their larger-than-life online personas, but McMichael is exactly how she appears on TikTok IRL — warm, open, and exuding a sense of genuine awe and gratitude for this unexpected journey she's embarked on. She's one of the most-followed beauty TikTokers on the platform, but at the end of the day, she says she's still the same Jersey girl whose ideal day ends with a dinner party at home and involves copious hours of playing video games with her two brothers (still her favorite thing to do on days off).
When I ask what's next, she mentions she'd love to collaborate with a fashion or beauty brand on a collection she's creatively involved in — or even start her own brand five years from now. For now, she's enjoying the many different aspects of being a full-time content creator. "I'm in so many different eras right now," she says. "I'm in my homeowner era; my nesting era. That's really where my heart and my mind is at. I'm in my lover era." She pauses, then smiles. "I'm in my bag era."
And with that, she's off — back to Jersey to finish decorating her new home, back to securing the bag, and back to living (and documenting) her life so the rest of us can follow along for it all, one new era at a time.
Photographs by Ruo Bing Li
Hair: Ro Morgan
Makeup: William Scott
Photo Director: Alex Pollack
Editor in Chief: Charlotte Owen
SVP Fashion: Tiffany Reid
SVP Creative: Karen Hibbert