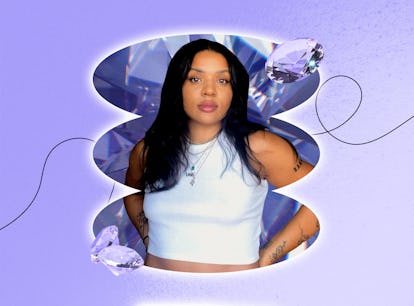 Jamika Martin Is Making Acne-Care Affordable & Shelfie-Worthy For All
With Rosen Skincare, dealing with blemishes is easy (and #aesthetic).
Jamika Martin struggled with acne and hyperpigmentation for years before creating her skin care brand, Rosen Skincare, in 2017 — and like many Black creators in the beauty realm, she began in her kitchen. Martin's vision for creating affordable acne products specifically for melanated skin tones, plus the brand's eye-catching packaging, earned her a spot in Target's Accelerator Program in 2018 — just one year after launching Rosen.
Throughout this program, early-stage businesses are given access to resources to help them expand their brands, and from there, Rosen Skincare landed on the shelves of Target and Ulta Beauty. Last year, Martin received a $2 million investment from the New Voices Fund, an initiative started by the co-founder of Sundial Brands to help further scale her brand. Martin is now hopeful she can continue to lead the path forward for clean and inclusive skin care. "[Melanin-rich] customers continue to look for brands to show up for them and their needs and we hope to continue to be that," says Martin.
Ahead, find out how Martin built Rosen Skincare from the ground up.
What inspired you to first start Rosen?
Jamika Martin: I'm someone who dealt with very severely acne-prone skin for most of my life, so skin care was at the forefront of my wellness routine once I turned 11. Combining my personal experience and frustration in the acne market as a user, I wanted to find a way to bring drugstore acne alive in a way that addressed my needs. A cleaner approach that also was inclusive of melanated skin types was my initial approach and how we've continued to grow today.
How have you managed to scale up your brand to mainstream outlets like Ulta and Target?
JM: Scale has been incredibly incremental at Rosen as I've been running this thing for over six years now. It's always difficult and challenging to keep up with the new eras of business and marketing, but the tried-and-true methods for our growth have continued to revolve around people. Emailing customers to get their feedback, interacting with a loyal affiliate program, and working with larger influencers to try and share the word about our brand.
Would you ever consider selling your business?
JM: Only a select few superstars get to actually sell their company and I'd be incredibly honored should Rosen become one of those brands. It's absolutely a part of the game plan.
Have you faced any challenges in the beauty industry as an entrepreneur of color?
JM: I think the most difficult part of being an entrepreneur of color is validating your leadership and concept to outside entities. Once investors and larger partners matter more, you really have to lean into your areas of expertise and, at times, it can feel as though if that partner is not exclusively looking for a "Black voice" or to connect with a Black consumer, you're much less valuable to them. I've worked to partner with entities that do value my perspective as a leader outside of just understanding Black women, but the reality is, many of these larger entities see all of my value in how I can connect them with a Black consumer and not much outside of that.
How did you formulate Rosen's acne-fighting ingredients to be safe for melanated skin?
JM: My primary concern being in the acne space is: how do I adequately address hyperpigmentation? Not just fading, but preventing. How do I ensure formulas for acne are hydrating the skin barrier and not creating an environment that will make scarring worse? How do I address core inflammation at the root of a breakout that causes post-inflammatory hyperpigmentation? How do I utilize scar-fading ingredients that are safe for darker skin tones?
A lot of the drugstore acne space is centered around fighting breakouts with these really drying formulas, which 1. do nothing for dark spots and 2. create an environment for worse hyperpigmentation. At Rosen, I'm combing through as much research on skin functions and ingredients as I can to combat this.
What's your best advice for budding entrepreneurs of color?
JM: Understand your market and point of difference! I think a lot of times we come in with a great product that has a difficult time standing out and think, "If I just had X resource, I could grow." In reality, it might just be hard for someone to buy from you because they don't really get why they should switch what they're already happy with.
I also think founders of color would benefit from sitting in on webinars or these live chats with investors and key stakeholders because one thing I realized very early on is that we are speaking a totally different language. Founders of color are creative, resourceful brand builders but often don't have the background or resources to speak to these stakeholders in the language they need to hear.
When it comes to finding balance, what are some habits you stick to every day?
JM: I'm big on work-life balance. I've never been an up-all-night and grind, grind, grind person. In spurts or moments, but ultimately, I'm far more productive when my work days don't last too long and I have time to be creative and ideate. New campaigns, new partners, new products. Outside of balancing working hours and my daily life, I try to get into the ritual of cooking for myself most nights of the week, journaling and meditating when I feel anxious, and surrounding myself with a loving community.
In what ways do you hope the skin care world will evolve?
JM: I really love where skin care has continued to go. I think we have a great realm of premium, mass-tige, and drugstore products budding right now when it comes to options for everyone. I think I'd love to see body care catch up to the skin care space when it comes to the assortment of offerings, brands, and concerns being addressed.