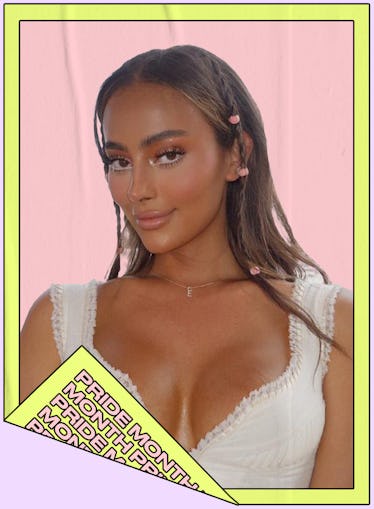 Emira D'Spain Swears By These Beauty Essentials For Pride
The TikTok creator and model doesn't gatekeep her secrets to glowy skin.
We may receive a portion of sales if you purchase a product through a link in this article.
Emira D'Spain is a testament to how posting on social media can radically transform your life. Almost overnight in 2022, the New York City transplant went from her beauty director job at Paper Magazine to TikTok's beauty queen, posting GRWM vlogs, makeup tutorials, and product reviews to her 1.2 million followers. Now, the 26-year-old is walking runways in New York Fashion Week, taking on massive campaigns with brands like Fenty Beauty and Charlotte Tilbury, and being flown out on international press trips with other big-name creators.
"I have always had a strong passion for sharing beauty with the world," D'Spain, who was also the first Black trans model to work with Victoria's Secret, tells Elite Daily. "The way we express ourselves through makeup, hair, nails, the body, and clothing is such an aesthetic representation of how we feel on the inside or how we want the world to perceive us."
D'Spain's vibe is super relatable — she uses her natural humor as a focal point to share beauty tips and behind-the-scenes peeks at her life. From a $1 hack for "bad b*tches" who desperately need to wash their makeup brushes to the secret for turning "busted and crusted" hair into a work of art, D'Spain's openness to sharing her struggles and growth is one of the many reasons she's become a BeautyTok favorite.
Below, the content creator and model tells Elite Daily about her unexpected career change, her influencer besties, and the Pride beauty essentials everyone needs.
Elite Daily: How do you balance being a full-time, history-making model with beauty influencer life?
Emira D'Spain: I'm not going to lie, it's a lot. I have to know when to shut down and take time for myself, which I'm working on. But it's amazing. When you're really passionate and love what you do so much, it's easy to get swept up in it.
Elite Daily: In 2022, you became the first Black trans model to work with Victoria's Secret. What does that mean to you?
ED: It means the world to me. It means that there are so many little queer kids, whether they're of color or not, who get to look up to me and see that moment in history that will forever be part of however they want to grow up. It feels special that I was able to make history in that way because it's going to live on even beyond me.
Elite Daily: What are some of the other goals you have for your career? Where do you see yourself in 10 years?
ED: I really want to get back into acting. I used to act when I was younger, and I actually went to a fine arts high school. I can see that being my next step along with maybe launching a beauty company. I went to [New York University] for marketing, and that's kind of my driving force — it's why I feel like I'm so successful at being an influencer and building a community online. I want to bring that skill into a beauty service that goes off the Internet and into the real world.
Elite Daily: It's interesting that you're into theater and acting, because makeup is almost an expression of that as well: stepping into how you feel.
ED: It's so crazy too, because almost all of my influencer friends, whether they're in beauty or beyond, have some kind of theater or film background. We really are the exact same type of person, and we find joy in the same things, which I think is so funny.
Elite Daily: Tell me more about your relationships with other influencers. Is there anyone you're particularly close with?
ED: I love so many of my influencer friends, especially the New York influencers. The community is a lot smaller than in L.A., so it's easier to befriend people and build those connections. Davis Burleson, Audrey Peters, and Kenneth Pabon are my influencer besties in New York.
Elite Daily: What's the coolest opportunity you've gotten through Instagram or TikTok?
ED: Working with Victoria's Secret was pretty crazy. Walking the BooHoo runway for Kourtney Kardashian's collection during New York Fashion Week last September was awesome. And everything during fashion week: Charlotte Tilbury took me to a Christian Siriano show, and that was so much fun.
Elite Daily: Your makeup looked amazing at that show! Now that summer is here, what are your go-to warm weather beauty products to keep your face glowing?
ED: I've been loving the First Aid Beauty Weightless sunscreen. It's so good; I wear it all the time. For makeup, I've been loving this Hourglass Veil Translucent Powder 'cause it's got a little bit of shimmer in it. I love layering that on top of makeup when you are out and about and don't want to look cakey, but your skin still wants to glow through.
Then there's the KP Bump Eraser body scrub from First Aid Beauty, which I have raved about forever. It's a chemical and physical exfoliator that you use in the shower with a loofah or exfoliating mitt, and it will just flake off your dead skin. I was just in the Hamptons, and I was getting all these compliments. Anytime someone would touch my arm, they'd be like, "How is your arm so smooth?" KP Bump Eraser body scrub, honey. It is such a game changer. Also, if you have stretch marks anywhere, scrub with it and it helps fade them; my friend taught me that.
Elite Daily: Speaking of summer, happy Pride! What are your plans this year?
ED: So many things! Obviously, there are always events in New York, and I've got a bunch of different brand things that are always so fun to go to. I want to throw a little party at my apartment. I could have everyone come in monochromatic colors and then each person could be a color of the rainbow. You'd dress in full head-to-toe blue or whichever color, and your eyeshadow and makeup would have to match it. That would make a cute group photo.
Elite Daily: What is one Pride beauty essential everyone should have?
ED: If you're out and about, you need to be wearing sunscreen to protect your skin, not only on your face but your body, too. I've been loving this Kopari glowy body sunscreen. It smells so good and gives you a little bit of a glow.
Elite Daily: Can you tell me a little bit about your first Pride look?
ED: I did a rainbow on each eye and then a little cloud on my cut crease. I got that idea from someone on Pinterest. It was so pretty. It was in 2020 during COVID, so there was no actual Pride event. But my friends and I were all just like, "We might as well do a cute little Pride look at home." I was sitting in front of my window and filming and it was raining, and there was an actual rainbow outside.
Elite Daily: What does Pride mean to you?
ED: Pride is the time we get to celebrate and bring the community together in so many different ways. It's easy to fall into the narrative of "Oh, why are we just celebrating this one time of the year?" But we don't have to think about it that way. We get to find one another, meet new people, and celebrate so many different members of the LGBTQ+ community, and I think that's really special. On top of that, the representation — it's such a powerful time to be seen and to be heard. Kids growing up get to see that.
This interview has been condensed and edited for clarity.